Latest Fall Winter Coats & Jackets 2017 For Girls | Stella McCarteny
Stella McCartney has been one of the most well known and remarkable name in the list of international designers all over the world. She has been made conspicuous image in the fashion world just through her innovative, unique clothes and chic designing. She basically deals in women's clothing in the categories of evening wear, casual wear, jeans, shirts, tops, trousers, shoes, accessories, kids collection, newborn baby collection, handbags, dresses, perfumes. For all the seasons Stella has always arrived with classy designs that catch the attention all fashionable women around the world.  This season she has designed embroidered shirts with high collars. Her winter/Fall collection of shirts, tops, coats and jackets has been coming across as much magnificent and fascinating for the women because all the designs seem as many traditional and creatively fresh. Use of borocade, knits, silks, tweed, and mixed pattern fabric and embroidered pieces are sure to look fabulous during the fall cold days. McCartney's Fall coats are always highlighted, this fall designs are with bolder proportions of vivid blue, tailored with a sporty knit collar. She dressed up her tailoring with floral embroideries (black and white on blue). In the gallery below I have showcased her collection of coats and jackets 2017.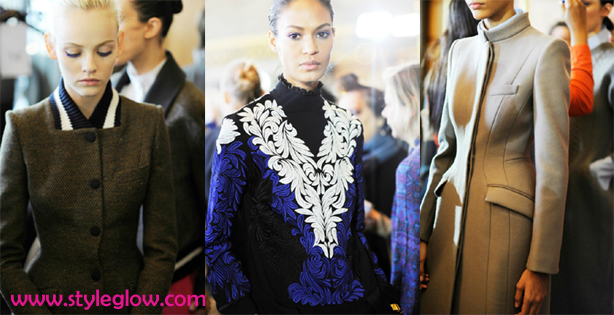 You may also read these related posts
Latest Fall Winter Coats & Jackets 2017 For Girls | Stella McCartney
Here you can see Stella's high class collection of coats, jackets tops and shirts 2017.