Vera Wang Fall 2017 Wedding Gown collection
Personal Information:
Vera Wang is recognised for her collection of bridemaid gowns and wedding gowns, she designed dresses for elite class ladies and celeberities arround the world as well as for competitions and exhibitions. She was born on 27 June, 1947 in America and raised in New Yorke city and is of chinese descent. She graduated from Chapin college in 1967 and got a degree in art history from Sarah Lawrence college, while she was in high school she started figure skating and took part in U.S  Figure Skating Championship.
Career:
She started her career in 1970 as chief senior editor Vogue, after leaving this job, in 1990 she opened her own salon with Bridal gown trademark. In April, 17, 2010 she received an award(leadership in art) the Harvard-Radcliffe Asian American Association. In 2002 Vera Wang entered the home fashion industry and opened her China and crystal collection.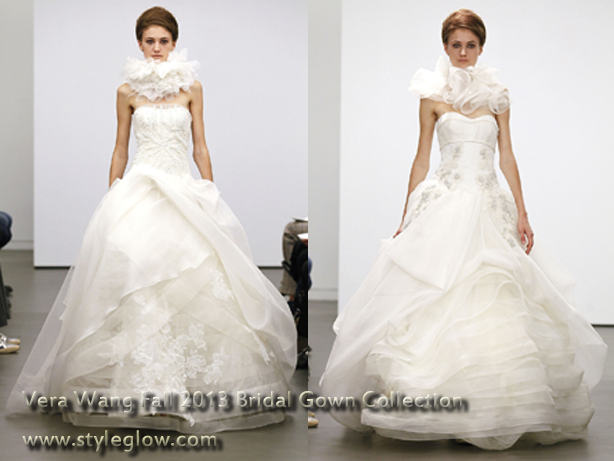 Product Line:
Vera Wang product line include the following
 fragrance
 jewelry
 eyewear
 shoe
houseware collections
wedding dresses
wedding gowns
evening wear
Vera Wang Fall 2017 Wedding Gown collection
This season Mrs. Wang surprised us with her elegant and extremely gorgeous white wedding gown collection 2017 at the New York Bridal Fashion Week, as last year she surprised us with her totally different and unexpected collection of black and nude fall 2017. She masterfully used organza, chantilly lace, tulle to create stunnig latest bridal collection, that give the feel of fairy land. Ms. Wang surprised the wedding world by using laces, floral embroideries, crystals and by adding layers and volume to gowns seems to be like princess dresses. The classic use of whites with lace, embroideries and crystals make the collection romantic and take us to the fairy land. Here you can enjoye her just raomantic and amazing collection of fall wedding gowns. For shopping these gowns you may visit Vera Wang bridal boutiques in New York, London, Tokyo and Sydney, Australia, and for online shopping you may visit her official website.