New EID Mehndi Designs 2023 Beautiful, Simple and Easy
Eid is considered incomplete without applying beautiful Mehndi designs on hands. For this, the Styleglow team wants you to look more beautiful with the new EID Mehndi design styles 2023 for girls.
To make your hands more charming, our team has sifted beautiful EID mehndi designs images and photos, including Tikki, simple & easy, peacock, and more for fingers, hands, and feet.
Do you want attention i mean "Eyes on you" on special EID day? Adds value to your personality by applying some simple, easy and beautiful EID mehndi designs including tikki, mandala and many simple designs this year 2023 and create a significant impression on your family and friends. Isn't it cute? It is.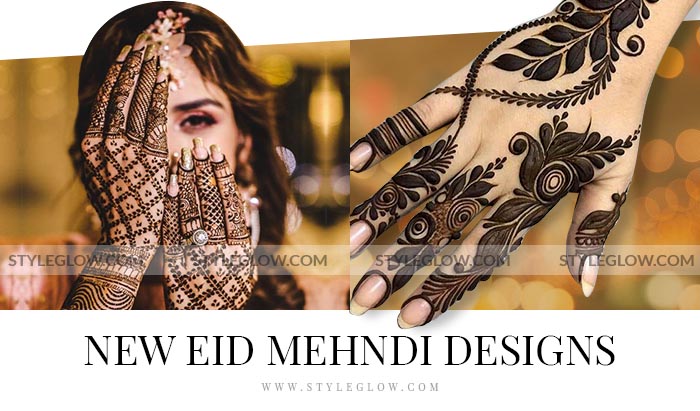 Latest Beautiful Eid Mehndi Designs 2023
EID is around the corner, and if you are looking for beautiful, easy, and simple henna designs, then you are in the right place. Young girls and ladies are applying mehndi only on their hands most of the time, but we suggest going for your feet either to generate a unique manifestation. Check the latest addition of new easy and simple EID mehndi designs with a number of options including Tikki, Mandala, Simple, Easy, beautiful, Arabic, and Pakistani mehndi designs for the year 2023.
All the latest Eid dress Designs from all top designers are out now in stores.
Artists have developed different tools to make their applications easy and effective. Nowadays, Mehendi is not only available in cones, and plastic bottles with thin tips, but also applied with the help of syringes in saloons.
As a woman or girl, you may go for Arabic mehndi designs, Indian Mehndi designs, or traditional Pakistani henna patterns. It all depends on your state of mind that which style you like the utmost. I love all these styles.
These days fusion style is also popular in which you can try floral, peacock, traditional motifs, geometric patterns, or shapes to decorate your body parts. You can also apply glitter, stones, and beads to make mehndi designs striking and attractive.
To complete your look overall adore a hairstyle pattern from these party hairstyles for girls.
Simple & Easy EID Mehndi Designs for Beginners
Are you a beginner mehndi artist? YES? No need to worry, just try different designs with little practice on a piece of mirror, after a few trials you will be able to apply the mehndi like a pro. Here I am sharing super easy and simple mehndi designs for all those girls who are beginners and do not know how to apply mehndi.
Just remember a mantra for doing anything that is practice, practice, and practice! By just practicing mehndi and getting mehndi design ideas from here, you can master the mehndi design arts.
So, all the easy mehndi designs are here for you to try. Let's celebrate this Eid in a traditional style this year!
Most Beautiful EID Mehndi Designs for Hands
Eid is all about joy and celebration, but women consider it incomplete if they have not adorned compelling henna styles. Indian and Pakistani mehndi designs, when blended, gives a classic traditional touch to one's appearance. Do check these Indian Mehndi Designs to grasp an understanding of the Arabian blueprints.
Intricate Indian henna patterns are when mixed with Pakistani mehndi designs enhance the model uniquely, as you will see below. Such mehndi patterns are for full hands and usually leave no further space on your hands and arms.
If you want to go for Arabic patterns, then go for the complete collection here regarding Arabic mehndi designs.
Latest EID Henna Styles for Hands and Feet
Here is the list of new EID mehndi designs for the front and back of hands, arms, and feet. Easy and simple patterns of Mehendi are mostly suitable for events and EIDs. But massive and sophisticated designs are more common for wedding occasions, parties, and other get-togethers where ladies lurk around for what is worn by others.
It looks luxurious and gives a robust shading scheme that looks sharper and more prominent. Here are very stylish EID mehndi ideas for hand and foot that you can try at any event.
Simple EID Mehndi Designs Tikki
Mandala mehendi designs are one of the centuries-old mehndi designs. They have been drawn on hands and feet for years and are renowned as classic mehndi designs all around the world especially in the Middle East and South Asia with little variations in pattern.
Gol Tikki mehndi designs are drawn using arcs, different circles to create pleasing mehndi patterns. Beautifully drawn tikki designs, have the right power to jazz up mehndi embellished hands like no other mehndi pattern.
This Eid would be fair to give a chance to these simple mandala henna designs as these designs will take you back to the traditional roots. So, let the Style Glow team present the simple easy yet pleasing mehndi trends for 2023 Eid which are worthy to give a try!
Are you looking for beautiful Tikki or Tikka mehndi designs that are easy to apply and look simple? Have a look at these minimalistic gol tikki mehndi designs which are just perfect for events like Eid and weddings.
Styleglow Words for You
Above, you have explored new EID mehndi designs 2023  that look beautiful, simple, and easy for everyone. We hope to fill up your thought with all the latest patterns of henna, and don't forget to share the above-illustrated blueprints for Eid with others.