Best Pakistani Bridal Hairstyles 2023 for Wedding
From pretty ponytails to the classic half-up styles, Pakistani bridal hairstyles 2023 for the wedding is all that a bride wants to have for their wedding ceremonies. Every bride wants to look astounding at her wedding. She not only pours blushing makeup but wears dresses that are totally mind-blowing and adores such hairstyles that glow their personality. Any kind of hairstyle for brides is chosen by keeping the face type and hair size in mind because if a hairstyle is not chosen wisely it could penetrate your comfort zone and no one needs that for sure.
Whether it's Mehendi, Barat, or Waleema day of the wedding, brides are the focal point of consideration. They have to search out dresses, designs, jewelry, shoes, and last but not the least hairstyles, months before their wedding days. Brides choose hairstyles that can enhance their look admirably. You can also apply these party hairstyles ideas to any festivity and also check out these for after-party functions.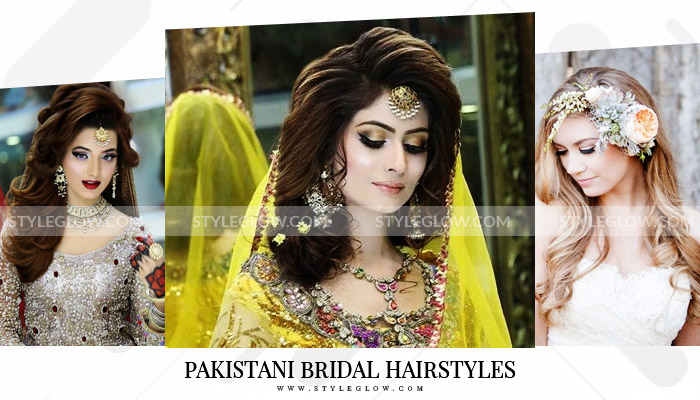 Pakistani Wedding Hairstyles 2023 for Brides
When it comes to bridal hairstyles, there are tons of Wedding hairstyles for brides trending in Pakistan right now. they can glorify Barat, Waleema, Mehendi, after wedding parties and other occasions. Brides like to possess flowers, dupatta, matha Patti, jhoomar, crown, and other techniques depending on their unique face type which is a sole factor, and dresses for Waleema day can also be explored. Find new wedding entrance ideas here according to the trends.
Nothing takes our breath away quite like a real bride and that is the reason why brides are the show stoppers. Trends have changed drastically in the past few years and weddings have become more like a ramp walk and due to this everyone expects the bride to be jaw-dropping.
We have combed the most trendy hairstyles with prettiest looks for brides that can complete their look on their wedding day. Ladies in Pakistan tend to have curly hairstyles on their weddings because it looks more fashionable and gives them a younger appearance. Here we also discuss bridal wedding dresses ideas for girls.
Every hair type that includes short hair, long hair, medium hair, curly hair, thin hair or any other hair type needs to have a novel hairstyle. For this purpose, there are many beauty parlours out there from where you can get your hair dressed up like a pro.
Bridal Hairstyles for Barat
Brides usually wear red colour combinations on Barat day. You can have an idea of the hairstyle below for the brides and girls overall. We suggest you don't wear too heavy jewellery that would be harder for your hairstyle to carry and to look more elegant collect the designers bridal dresses from top designers.
Experienced beauticians know how to dress up your hair with compelling styles or any other that you appeal to. All Brides must check out these party wear dresses for girls and focus on the details because that's the thing that counts the most on their wedding day.
Bridal Hairstyles for Walima
There are numerous hair designs that can create inspiration for your bridal look on walima day. To tuck flowers into your hair, Updos are a great option and most hairdressers also prefer this styling technique. You can check bridal walima dresses collection here.
Moreover half-up, half-down style gives a good base for your hairstyle to fill it up with blossoms. In trendiest hair styling methods, brides tend to wear backward half-crown and all down hairstyles with a full flower crown.
Bridal Hairstyles for Mehndi
Brides after wearing heavy outfits don't feel much comfort at their weddings. To remain calm and balance on mehndi occasion, brides choose an open hairstyle. It's the most relaxing hairdressing technique because you can apply any type of style to it. You can go for curly, straight, full-open, half-open styling forms in this category.
Styleglow Ideas for You
When it comes to any bridal hairstyles for wedding days 2023, we suggest that don't pick anything that will weigh down your hairstyle. A heavy matha Patti with a dupatta or lightweight jewelry, for any hairdressing, might be too much for a small bun, fishtail, long curly or any other style that you choose for your hair.
Also, think about fading—especially in hot weather. Go for hearty blooms that can stand up to heat and low water supply if you are not thinking to wear jewelry.