Latest Bridal Walima Dresses 2023 Modern Collection
The latest Pakistani bridal walima dresses elegant collection of 2023 now is on the ramp. Now we are going to present before you our brand new bridal dress collection of 2023 specifically walima day.  As you know this is the season of weddings and most people, especially brides, and grooms, are in search of the best and most modern mehndi, barat, and walima dresses.
In Pakistan, our designers have worked on a large scale to keep the standards of weddings according to the latest fashion. Our 2023 modern bridal walima collection is recommended by top designers. Now you don't need to be in confusion about the selection of a good dress for your wedding ceremonies. Teena Durrani, Mirusah, Elan, Zainab Chottani, Sania Maskatya, and some other designer's latest wedding dresses collection can be seen here. You may find our finest collection up to the latest trend in society. Moreover, it may also set your priorities on international levels.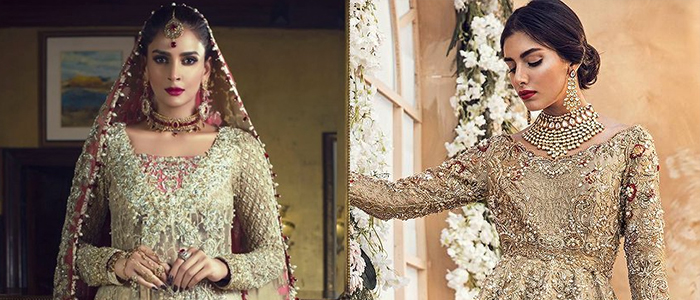 Most Popular Bridal Walima Dresses Collection 2023
The bridal walima dress color combination is not specific. It might be of any color except the red that is worn on Barat Day. The most popular colors for waleema dress designs in the past were red, maroon, shocking pink, and sky blue. But nowadays, light colors are the most popular for this ceremony. Colors like sea green, parrot green, tea pink, peach, off-white, cream, light grey, and dim orange are a prior selection for walima dresses.
We have picked some astounding walima dresses for brides that are according to the season and available in the local market. These dresses have a unique type of zari work, dabka, sitara, and sequin embroidery work embellished on silk, velvet, chiffon, banarsi, and self-printed fabric combined with net and laces, etc. Below is the hottest collection for bridal walima dresses. You will find a plain, embroidered as well as fancy dress collection here that is going to help you to finalize the dresses in your mind.
Here is our recommended list for bridal walima day dresses. This is mostly followed in our culture.
As time changes, there occurs a shift in the brands and latest wedding dress collections. To look astounding and incredible on the wedding day, the brides have many dressing alternatives including wedding lehengas, maxis, ghagra, ghagra cholis, gowns, etc.
Less embroidered and light dresses trend is taking place. For Barat and mehndi, you may see our top recommended bridal wedding dresses collection. The girls may also see our latest party wear dresss for formal dressing on their beloved sister or friend's wedding.
1. Bridal Maxis Designs Collection
Maxis style is more stylish and awe-inspiring than wedding lehenga designs at walima ceremonies for this year 2023. Our bridal maxis have embroidered work on different pieces of stuff. Pakistan's designers have prescribed maxis with hand-made dubka, cora, and nakshi work along with stone beads and Swarovski that is embellished on silk and chiffon.
Net-work on maxis is more likely to be followed as modern fashion trends. The light grey and golden colored maxis are in trend nowadays. It's vulnerable and fascinating overall. It's stylish and inspiring as well. It's royal in its look and makes the bride's personality captivating and spellbound.
2. Bridal Lehenga Designs for Walima Day
In the past years, there was a trend of wearing dark color dresses on walima. But now that fashion is outdated. Barat and waleema functions are now somewhat different according to their bridal outfits. Wedding lehengas with light grey, sea green, tea pink, and off-white colors are now most modern & popular for their decent outlook and stupendous brands.
Want to help our your GROOM in the selection of waleema day dress? Check our men walima day dresses.
Look at the gallery below and chose the finest dresses of your choice with the best design patterns.
3. Bridal Walima Gowns Finest Collection
Brides have also the choice of gowns on their special day. This wedding dressing style is not immensely followed in our circles. But many people make gowns their priority for walima day. Pakistani designers have also worked on bridal waleema gowns. The color patterns remain the same as other walima dresses.
Styling with beads, crystals, and zari work make the outlook awesome and impressive no doubt. It covers the whole body as well as depicts the personality and elegance of the bride. Here is our latest collection of bridal gowns.
We have displayed our rare and finest collection of bridal wedding dresses for walima. In 2023, the most popular trend for waleema is lehenga and maxis. Our Pakistani brands like Mirusah, Asim Jofa, Teena Durrani, and Zainab Chottani suggest a number of dresses for your wedding ceremonies. You may check out our latest top designer bridal dresses. This spectacular and formidable collection has plenty of variants for your day. So stand out and get ready for your awe-inspiring and splendid walima day ceremony.