Beautiful Stitching Styles 2023 of Pakistani Dresses
With the evolution of designing trends in Stitching styles 2023, Pakistani dress designs for Stitching have never been transmitted backward. In today's society more women tend to wear stitched designs for clothing. Most of them are household wives and others who are job holders prefer wearing stitched formal dresses, party outfits, and stitched dress designs because they don't have enough time to go shopping.
With the passage of time, trends do have changed but women of today's era still prefer to wear stitched fabrications. They prefer the patterns of stitched lawn suits, shirts/tunics, kurtis, jacket styles, cape style shirts, angrakha style designs, and peplum frocks stitched designs.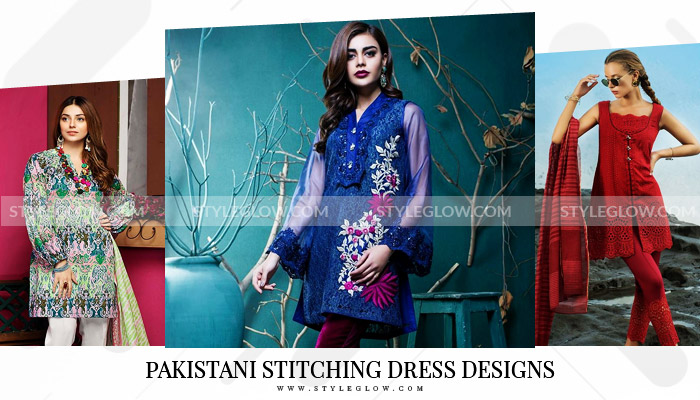 Latest Pakistani Stitching Designs 2023 for Frock, Shirts & Kurti
Pakistani stitched dress designs are well renowned for their luxurious stylings and embellishing blueprints. There is a fast progression in the Pakistani fashion industry and everybody needs to keep pace with the most modern stitched design patterns 2023. All stitched designs include neckline, round, V-shaped, square, boycott, and more modernity seeking best lawn suit designs.
In any sort of an event where you are looking forward to attaining a modish look, don't panic because designers have launched their latest collections of stitched clothing. Designers have put forth their efforts to fill up their dresses with adorning styles.
The StyleGlow team has gathered all the unique dress designs that can exhibit that charm you are seeming to possess in your personality on every type of festivity. A large number of these dressing styles for stitching have an extensive request for extravagant clothing types.
Designers whose collections shown are Khaadi, Teena Durrani, Sana Safinaz, Maria B, Nishat, Gul Ahmed, Zainab Chottani, and many others.
Frock Stitching
 Styles & 

Designs 2023

Nowadays peplum dresses or shirts in stitched style are mostly worn by many ladies because of their compelling stylish look. If you are looking for party wear frocks designs of any category, do check the link related. Aside from extensive gowns, peplum shirts and dresses are chosen in accordance with the need of the occasion.

Short Frocks designs are also worn with many stylish bottoms with embroidery work or even plain color scheme. You will explore an enormous assortment of peplum frock styles here.

The primary power behind these designs of any type is the ideas of the originators who are committed to providing us the best design outfit. All their stitched collections can be worn with stylish shalwars, churidar pajamas, trousers, pants, bellbottoms, tights, and even capris.
Shirt Designs for Stitching 2023
A majority of designers have launched their latest summer prints that include shirts, tunics, and cape style shirts which are appropriate for young ladies and women as well. As summers in Pakistan are very hot so ladies wear dresses that can be of comfort to them. All these dresses can be worn mostly on formal occasions, parties, and even weddings.
So ladies who want to stay cool and give themselves a touch of innovation while keeping the conventional standards in the record should try these latest Stylish Summer Shirts as well.
Stitched Lawn Suits for Women
Pakistani women tend to wear shalwar kameez the most as it is our national dress. When it comes to categories, we have stitched, unstitched, plain, printed, embroidered, and in many other blueprints. Lawn suits are suitable for every age of women and especially when in the form of stitched fabric.
As a rule, lawn or cotton texture is ideal to wear with shalwar, churidar pajamas or tights. Any type of girls hairstyle ideas can be combined with the following outfits.
Stitched Design for Kurtis
When women are having a discussion about the summer Kurti designs, it means they want something free form-fitting. As kurta is a dress that is a bit loose in fitting and women feel comfortable wearing it. It is mostly present in stitched designs and ready to wear formats. Whatever shades you are going to pick from the following gallery will look beautiful on you.
Words by StyleGlow
By selecting from these Pakistani dress designs for stitching, young ladies and beautiful women would look unique and intriguing throughout. The request of customers now consists of advanced and intrinsic fabrication and by that the designers are working hard with passion to fulfill it.