10 Best Maternity Dresses Styles and Fashion Trends for 2022
Are you looking forward to wearing dresses all through your pregnancy? It can be challenging to find a trendy maternity dress to suit your style. It's because maternity and fashion hardly go in the same sentence in 2022. However, that narrative has taken a twisting turn, especially this year. You can style your bump and make a fashion statement.
Before you go searching for the perfect dress style, you need to equip yourself with the relevant information. You ought to consider one main factor, and it is as follows Soft and comfortable material designs.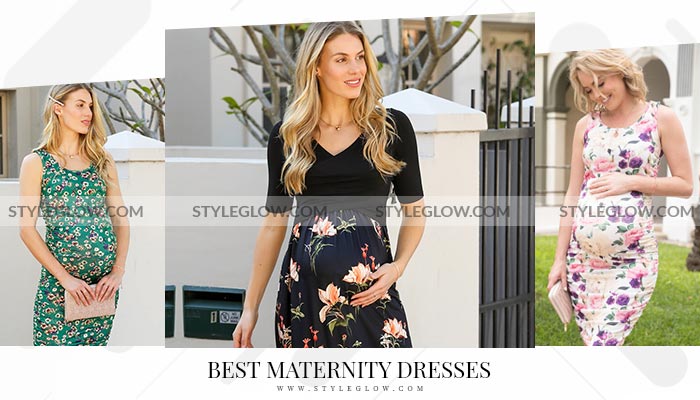 Best of Maternity Fashion Dresses 2022
If you are going for a floaty or bodycon style of dressing, you need to choose soft maternity wear. Always check on the label to know what material go used during manufacturing.
You need to select dresses made of cotton. It is because they are soft and will offer you warmth. You can also choose a dress made of Rayon as they are a comfy option. You can also select a viscose or silk material as they provide comfort and a smooth feeling towards the skin.
Now that you are aware of what you ought to consider, below are the best maternity dress styles as well as the fashion of the year 2022. Don't miss the list of best kids' dresses forever.
MIZ floral maxi dress
Your pregnancy wardrobe isn't complete if you lack a colourful maxi dress. It's a style that is suited for outdoor events. Wear light makeup and use safe beauty products during pregnancy. It will leave you feeling comfortable as it has a soft material with a little touch of airy. It will allow you to cover your feet and legs thus preventing you from getting sunburns.
A floral pattern adds colour and life to your outfits. One ought to lean towards gear with designs and different colours. It's because you will be in a position to wear them after your pregnancy journey.
You can select a maxi dress with a v-shaped neck as it will make it easier to nurse. The waistline makes feeding smooth sailing as it offers discretion when you are out.
Bhome bodycon short sleeve
It's a gift to be pregnant, and you may want to flaunt your baby bump. Choosing this trend is the ideal way to do so. It's a breathable dress which is also casual. Thus, it makes the perfect maternity to wear during the summer. Have a look at newly added formal summer dresses.
Enjoy the different striped patterns as well as colours. There are also floral patterns that you can select from any time. The dress has an added spandex as well as ruching thus is offering an excellent stretch over the belly.
It's a short-sleeved as well as knee-length dress. When it gets cold, you can throw a cardigan as well as maternity leggings to keep warm.
Josifer pleated loose
If you love to put on free floaty dresses, you need to go for the Boho chic style maternity dress. It has a flared hemline with a magnificent pleated design. It is made of polyester as well as spandex. You can put it on your casual days, and you are good to go.
MIZ floral dress nursing friendly
You need to choose maternity that will offer you value after you have your little one. Here's a trend that's worth looking at now. It's comfy to put on during pregnancy. It's also nursing friendly.
Miss Qee Cool mee off shoulder
You need to choose a trend that will enable you to glow during your pregnancy days. Here's an off-shoulder neckline which is a must-have. It has a phenomenal lotus leaf collar which will ensure you look your best. It has plenty of stretching room for the growing belly.
PattyBoutik crochet
If you are headed out for a night of fun with your friends, you ought to dress the past. You can pick the latest maternity clothes and maternity wear following the fashion trend and flaunt it. The dress has an ultramodern design which has a lace inset as well as a crew neck. It reaches the helm of the knee. The material gives one room to enjoy the freedom of movement. Choose from a wide range of colours starting with black, dark green, red to the navy.
BlackCherry sleeveless maxi dress
here's a carefree and sophisticated maternity dress. It enables one to rock their baby bump at all times. It has a fitted top which has a flowing look towards the bottom. It's ideal for hot evening summer wear.
BeachCoco maternity dress
Here's modern trendy clothing that will allow you to have an easy time at a formal setting. It has a lace design and some floral patterns around the helm. Thus, making it modest for any occasion.
Liu & Qu bodycon dress
Here's a smart casual outfit that you can pull through while pregnant. It's a knee-length dress thus ruched towards the side. It provides room for the growth of the belly. There are different patterns to select from and have the best time.
Ruched sleeveless maternity dress
If you are planning to attend several casual occasions, you need a dress that will help you blend right in. Here's a maternity fashion statement that will enable you to look amazing. It's a floaty as well as lose dress, thus offering comfort. It has a low scoop neck.
Therefore, it makes it more relaxed during warm days When you are shopping for maternity clothes & maternity wear always strive to keep up with the changing trends. The above list offers maternity dresses that you can choose to rock during pregnancy as you transition to motherhood.