Best of Zainab Chottani Summer Collection 2023 for Girls
Zainab Chottani summer collection 2023 is available in the market and it's really inspiring. Zainab Chottani latest formal, casual pret, and luxury pret collection for girls and women offer fashionable & stylish dresses with many colors options. This brand is well known for its breathtaking clothing range which includes embellished Bridals with refreshing Pret wear. She offers luxuriant fabrics in both bold and soft nature.
Zainab Chottani was involved in many things and worked to provide the latest fashionable dresses for a very long time. Zainab steps into business in a simple and straightforward way. Her talent, designs, and artistic hard work helped her shape the brand into a success. All her new designs and amazing work are also coming in the summer collection for 2023.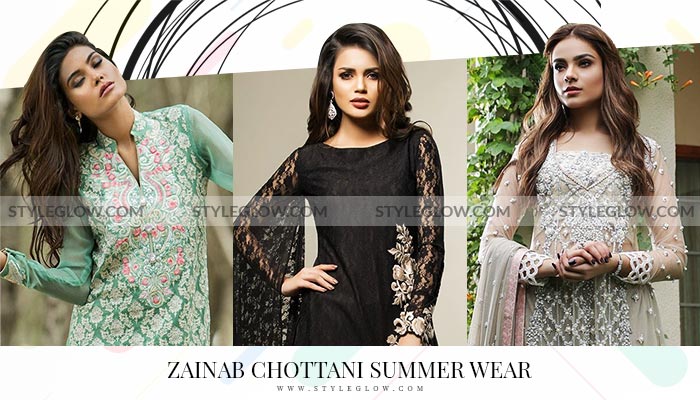 Zainab Chottani Summer Collection 2023 Formal and Pret
This time, Zainab Chottani summer collection for the year 2023 is up to date and outstanding. The lawn is everywhere in the summer. Zainab Chottani offers a special category of lawn which is called Luxury Lawn. Women of Pakistan are mostly want to buy fresh and stylish designs of the lawn whenever they arrive at the stores or online. Maria B Eid Collection has also been launched. You may see the latest dresses by her.
The latest collection of Zainab is also had the following types of amazing artwork.
Formal
Casual Pret
Luxury Pret
The new summer collection has extraordinary designs in printed lawn front & back, digitally printed sleeves, and so on. Also, the amazing collection of printed chiffon dupatta, cotton trousers, embroidered lace border, neckline, and much more. This collection is coming in both stitched and unstitched manner. If you are looking for designer wear then don't miss the latest collection of Unstitched Lawn Suits for women.
Zainab Chottani Formal Dresses 2023
Astonishing designs are coming in Zainab Chottani formal collection for 2023. When it comes to formal, people imagine dresses for official life. You can wear them in any function or event according to the need. Zainab offers two types of formal collection i.e., heavy and light.  The heavy formal collection for summer is stunning.
I love the heavy artistic work and colors options in an amazing outcome that will enhance the charm and beauty of girls and women. Now your hot favorite Khaadi summer collection is also in the market, just visit and pick your dress.
Another category in Zainab Chottani collection for summer is light. Guys, you will see elegant work on shirts front & back, neckline, beautiful cutwork border finished, and on many things. Also on dupatta and bottoms. This light collection of Zainab Chottani for summer can be wearable in every event and in the official environment. Girls work like a boss and make the nation proud.
Zainab Chottani Casual Pret Collection 2023
Zainab Chottani Pret collection of 2023 is also phenomenal. This summer pret is also coming in both casual and luxury types. I just love these designs, especially the work and designs of bottoms. The luxury pret collection for this summer has all the features that should be included in luxury dresses. Also, we have a nice collection of summer hijab designs in Pakistan for you. Don't miss this luxury collection at any cost.
Casual pret collection for this summer by Zainab Chottani is really meant for girls who like casual touch in their lifestyle. The trend is moving towards casual nowadays, as goes same for Pakistan. People adopting comfortable and good quality dresses. Guys get ready. Plan get-togethers with friends and relatives and enjoy this summer with the amazing collection of dresses.
Zainab Chottani Luxury Pret Collection 2023
Numerous shades and color combinations for Zainab chottani brand new luxury pret dress collection for this summer are available. Now you can get access to all her latest summer designs and pick the one you love the most. However price of some dresses is very high. But work on those dresses is really worth paying. Below you can find an ivory short shirt, mint shirt with sharara, jet solitaire and many more luxury pret dress combinations.
Options in vibrant & radiant, shades and fancy dresses are coming soon for you. Fellows rock this summer with the fantastic casual collection and latest designs.
Styleglow Words for You
Hot weather this time will not stop you girls with the help of Zainab Chottani Summer Collection for 2023. Awesome and trending dresses with eye-catching colors are coming in comfortable and good quality fabric. Designers and fashion experts launching dresses for the people of Pakistan that can be used in real lifestyle. So guys go to Zainab Chottani stores or website to make dresses in your possession. And guys give us your comments and views. Your comments & views help us to keep providing you with useful information.