Pakistani Unstitched Lawn Suits & Fabric 2023 for Women
In this article, I have rounded up with the latest Pakistani unstitched lawn suits for women 2023 with the best of unstitched fabric online. As summer has arrived almost all clothing brands have launched the latest summer collections to cope with the rising temperature with new lawn dress designs. As weather changes we upgrade wardrobes to adjust to the environment, this is the time to look for some exotic Lawn dresses to look fabulous this spring-summer. Hence, in this article, you can explore top unstitched lawn suits 2023 by different brands in Pakistan.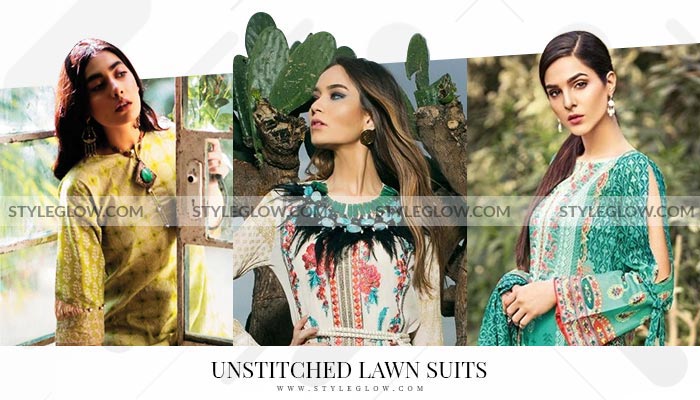 Best Lawn Unstitched Suits 2023 in Pakistan
In recent years females have had many clothing options to choose from as many brands and designers are producing magnificent unstitched lawn suits both printed and embroidered fabric. Such a wide range of various makes us difficult to select the best dresses to spice up your new looks. You can check the Latest summer dresses for girls as it's the season. Below I have shared top-quality lawn collections launched by the topmost liked brands and designers in Pakistan that include the following.
Sana Safinaz Lawn Suits 2023 Unstitched
Sana Safinaz is one of the well-known names in lawn fabric and suits for girls designing as they are considered as the queens of lawn printing in the fashion designing industry. Recently launched Sana Safinaz lawn collection 2023 is full of elegantly embroidered and mesmerizing floral prints and patterns that give ladies a sense of femininity while wearing these prints.
Maria B Unstitched Lawn 2023
Maria B Eid Collection for girls has its own charm and grace. As far as the fabric is concerned it is always of top quality. This unstitched lawn suits the price range for Maria B. starts from 6500 Rs and above.
Khaadi Unstitched lawn Collection
Khaadi another fashion house in Pakistan know for its unstitched, ready to wear clothes for women, me, and kids as well as accessories. Khaadi has launched recently unstitched lawn collection 2023 that consists of a wide range of options for all the girls and women to choose from.
Have you viewed Khaadi New Summer Collection? If not, then don't be late! The unstitched collection contains single shirts, two-piece, and three-piece fabric in print and embroideries. The price range starts from 1600-6500 PKR.
Alkaram Lawn Collection 2023
Alkaram an old and renowned name in the textile industry since long ago and still maintained it's the brand image when it comes to quality fabric. Alkaram lawn collection 2023 offers you enchanting options to select from a huge range of prints and colors specially designed to make summer more enchanting.
This collection contains two pieces and three-piece embroidered and printed suits for a variety of tastes. Al Karam Eid Dresses for girls are also in the market. Check out the latest collections without any delay.
Gul Ahmad Unstitched Fabric Lawn
Gul Ahmad another leading name in the textile industry since decades that offers top quality unstitched lawn dresses to its trusted customers. Recently launched lawn collection 2023 by Gul Ahmad consists of elegantly printed and intricately embroidered dresses to make summer comfortable. This collection also offers a huge range of style options to its customers from single shirts to three piece lawn suits.
StyleGlow Conclusion
Above you have explored the best of Pakistani unstitched lawn suits collections 2023 that consists of magnificent fabric and dresses. I hope you choose dresses that match your tastes and enjoyed the quality dresses by Styleglow fashion experts. Let us know your thoughts in the comment section below. Might you not have bought any dress for this summer? Don't be late, go and get yourself dressed up with the branded collection.