Latest Eid Dress Designs for Kids 2023 Collections in Pakistan
Latest Pakistani Eid collections 2023 for kids new arrivals are full of formal wear, and casual wear dresses to make it handy for parents to select the best kidswear dresses that can make them look like shining stars on Eid. In today's community, little girls and boys are deliberate not only about their Pakistani child eid dresses, but they are also looking for matching accessories.
Many brands are offering kidswear collections from traditional to western wear dresses for kids. Here we have shared top Pakistani child dress design brands for your young ones so that they can look attractive and blushing on this Eid.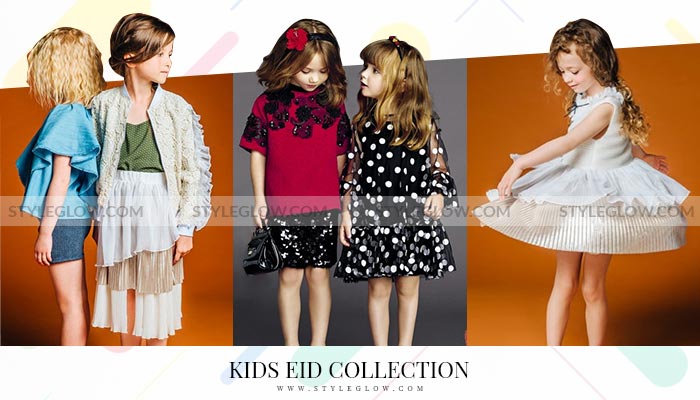 Best Kids Eid Dress Designs 2023
Here, we will show you some fascinating child Eid dress collections 2023 for girls or boys by some of the top Pakistani dress designers like Maria B, Junaid Jamshed, Outfitters, Khaadi, Al Karam, and Origins. The upcoming Eid festival is summer oriented. That's why the designers have suggested some jubilant colors that best suit both girl's and boys' appearances. Pick your style without any further delay during this Eid festival. Check the best-selling latest Eid new dresses for women.
Recommended!

 Kidswear by Styleglow

Below are some vibrant & colorful kidswear dress designs on this EID by the Styleglow team. We hope this list will make up your mind for new kid's dress design ideas this EID.

Here you go for the best child clothing brands in Pakistan this summer.

Mostly kids wear are ready-made, so you don't need to worry about the sizing issue. Custom made clothes can be on-demand if you like. Below is the list of top kid's dress designs in 2023.
Outfitters Juniors
Breakout Kids
Maria B. Kids
Khaadi
Al-Karam
Origins
Junaid Jamshed
Find brands that have no competition in the market. Get ready your kids for best appearance and make this Eid event ever memorable.
Also, check top women clothing brands in Pakistan
Outfitters Eid Kidswear 2023
Outfitters offers western wear dresses for both girls and boys. If you would like to see your child for Western kidswear on this auspicious day of Eid, outfitters could be the best choice. Their wide range of jeans, shirts, tees, shorts, frocks, shoes, and accessories for your children.
For parents who found it hard to grab the most compelling outfit for their child, the outfitter is out there to fit their choices.
Breakout Child Eid Designs
When we talk about bright colors, then definitely we don't forget the breakout kid's collection for this EID season and summer as well. They always made people's minds get into colors, and beautiful color choices by brilliant breakout's designers. Recently breakout hires the world's best Kidswear dress designer to design excellent articles for Kids and adults. Have a look at some top outfits by breakout for you collected by the Styleglow team for you this Eid.
Khaadi Kids Dresses
As always, Khaadi has never stopped to revolutionize its buyers even when it comes to kidswear. For little girls and boys, you can buy the latest and trendy kurtas with embroidered work on top that is following the traditions of Pakistan. Their Traditionally latest Eid dresses for women can also be checked here for matching elder's dresses with their little stars. Don't forget to let your EID shine like a pro with these Best Eid Mehndi Designs for this year by the Styleglow team.
Khaadi kids dress collection for Eid ul Fitr has a lot of stuff and varieties. You can choose the things of your own choice. You may also order online for your children's clothing. Are Moms interested in Khaadi Summer collection for women ? Have a look at your top-quality brand.
Alkaram Studio Kidswear Eid Clothes
When it comes to fun and stylish fashion, Alkaram is the most deliberate choice for your young ones. Their wide variety of multiple colorful kids dresses are most loved by moms, and wearing them makes kids happier. You may see the colors of summer in these dresses. The colorful outfits with both light and dark shades are suitable for kids. Al Karam, no doubt, has set the trend for clothing.
Origins Kids Dresses for Eid
Origins is a well-renowned brand these days for kinds of wearables and accessories of any type. Selecting from their latest collection for kids would give your child the look he desires for Eid greetings. Its western-styled dresses are enchanting.
J. Eid Collection for Kids
Junaid Jamshed's kidswear collection for both little girls/boys is for every type of event. To make your event exceptional, select any of these outfits for your little lads. You must see our New Eid Dresses for Girls here also. J. collection enlightens not only the eastern children's dresses but also the wide variety of traditional Pakistani frocks and Kurtis for bay girls.
Styleglow Words for You
Pakistani Eid dress collections for young girls and boys by top trending, and famous brands have surely given you great help in choosing your kid's dress. We suggest you visit the stores and buy wisely for your kids.
All the above collections are available at stores, and these outfits are also available online at the official websites of these brands to create a user-friendly environment for their buyers.
Check the Hitlist
New Eid Dresses For Girls In Pakistan
Latest Eid Mehndi Design Collection for Girls
Latest Maria B Eid Collection for Girls