Latest Kids Fashion Trends for 2019
Denim is back and gender norms are out. Read on for more about the top fashion trends for kids in 2019
2019 is shaping up to be a fun year to shop for clothes for your kids – the selection is larger than ever and the choices have never been more diverse!
The gender-neutral trend that has swept through the adult fashion industry has finally made an impact on kids wear and that means the possibilities are endless. Think hot pink for boys and racecar and monster truck t-shirts for girls!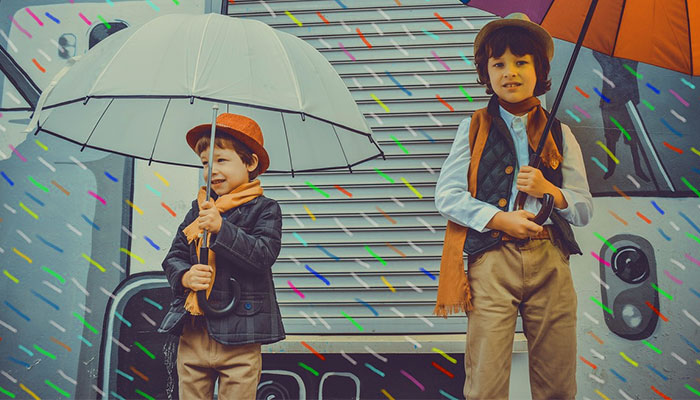 Historic Cultures
One of the hottest trends in kid's fashion this year is the return of historic cultures. We're talking Mayan and Egyptian hieroglyphic writing; the Nazca lines of the Incas; the symbols of the Aztecs; Roman architecture and numerals; Native American pictographs and petroglyphs; European cave drawings.
In fact, anything that has to do with the cultures of human history is set to be huge this year.
In addition to the writing, symbols, and art of ancient cultures, the color schemes are making a splash too. Colors common in Peru and Jamaica are a hit in the United States this year, with the brighter and the greater the contrast, the better!
Metallic
Speaking of colors, metallic tones are in too. While metallic silver is always a popular choice, kids can now sport colors like metallic blue, green, red, pink, and yellow. Everything from metallic colored cars, computers, math formulas, girl astronauts, and tags and mottos are adorning shirts and jackets in metallic colors.
And wouldn't you know, metallic letters and symbols from historic cultures are in as well.
What you can do with your kid's fashion today is boundless. Below are the more hot kids fashion trends to organize your fashion subscription box for 2019.
Low-impact and leave-no-trace materials
As it should be, environmentally conscious clothing is all the rave in 2019.
From hemp and bamboo fiber clothing to organic cotton and wool, environmentally and socially conscious clothing is a fad turning the trend in the kids' clothing industry. Even organic dyes are staking out a corner in the kids' fashion industry.
As important as the fact that these materials are environmentally and socially friendly, they are often a great alternative to traditional fabrics for children with allergies. Does your child have a reaction to synthetic materials like fleece and polyester? Try organic!
Denim is back
Today's denim is just as durable as traditional denim but softer. And, your kid isn't just resigned to wearing denim jackets, pants, and overalls. Today's denim is so soft that it works for t-shirts as well. Think a denim dress would irritate your kid's skin? Think again. Denim dresses are one of the material's best uses. They are durable and easy to clean and they are fashionable as well.
Plaids
This isn't your grandfather's burnt green and crusty brown, yellow, and orange plaid. Today's plaid color schemes mix all kinds of wild, out-of-the-box color schemes. How about a pink and blue plaid dress or overalls? How about a bright red lumberjack plaid shirt made of soft organic cotton? Plaid has made a major comeback in a whole new way.
But, fear not! Those of you who like the traditional plaid colors and patterns can still find those as well for your kids.
80s stonewashed jeans
Miss the days when stonewashed blue jeans were all the rave? They're back and better than ever! You can find stonewashed jeans for your kids regardless of their ages and sizes. Stonewashed jeans are available for boys and girls and they are even available in gender-neutral styles.
Unlike traditional stonewashed jeans, however, today's are built to last. The process of stonewashing jeans today does not weaken the fibers so you don't have to worry about the jeans going bad after a couple of washes.
Chuck Taylors
The shoe fashion that will never die is as popular as ever. The shoe is one of the most favorite items of a fashion subscription box. The reason being, in part, that the color selection for Converse's Chuck Taylors is virtually unlimited. You can find them in baby blue and precious and hot pink. They are available with jungle patterns or bold white. Just about any color, pattern, or color combination, you can think of, Converse has made into a Chuck Taylor.
Camouflage
Cold War era camo is hotter than ever. Thanks to the ingenious idea of making camouflage stand out, today's camo is a way for kids to say no to gender conformity. While the traditional greens and greys and snow camo colors are available, there is now an endless number of camo colors. There is neon camo and metallic camo, and there is even bright orange camo.
If you want your kid to fit in by standing out, try camo.
Boots
While not a new addition to the kids' fashion scene, boots are bigger than ever. Regardless of the make or style and irrespective of the gender, boots are a fashion statement all their own. Particularly leather and synthetic leather boots, they are a way for kids to show their rugged side.
Colored Socks
While once it was just little girls who had the liberty to wear colored socks, times have changed. Little boys are no longer resigned to white, black, or gray socks. Today's gender-neutral climate means boys can sport all kinds of different sock colors from hot pink to lime green and from plum purple to smiley face yellow. Socks are now fun for both boys and girls!