Latest Pakistani Bridal Wedding Dresses 2019 Collection
We are going to explore our most awaited latest bridal wedding dresses collection 2019 for women and girls. For bride, Pakistani wedding dress collection for mehndi, barat, nikah and walima day always have variations. Now Pakistani fashion designers don't stick at limited bridal wedding dress designs. Formal wedding dress trends are up this year for women but with light and luxury formula to wear. We have added the trendiest wedding dresses below for mehndi, barat and walima with latest color combinations including red, light green, light blue and more.
In the past few years, the latest wedding dresses for women on mehndi, walima Nikah and barat functions have gone through a shift. Bridal dresses have new ideas with emerging ideas. However, other trends like panels, motives, embroidery and silk wedding dress 2019 are much appreciated. Women usually wear red, white, green, pink, blue color short frocks, lehanga or sarhi depending on the theme of the function and colors. Must check bridal Barat dresses collection that we have already published. We are going to give you a number of dressing ideas for brides and bridal sisters as well.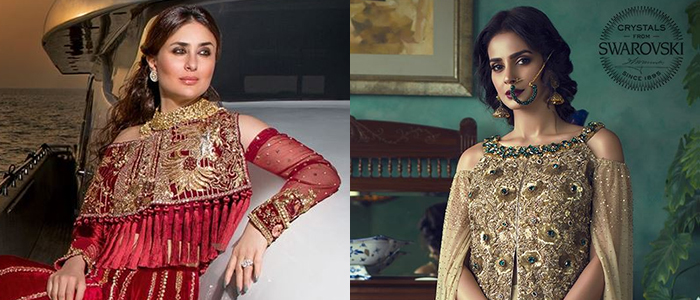 Top Pakistani Bridal Wedding Dresses Collection 2019
Now we are going to recommend you some top trending Pakistani bridal dresses 2019 for girls. You may see our best wedding dresses collection and find some impressive outfits for the specific event you are going to attend like nikah, mehndi, walima or barat etc. Now a days the designers wedding frock and short frock designs are also in fashion which you can follow or you can come up with something unique for your Pakistani women wedding dress.
We will cover the following events
Mehndi
Barat
Walima
Nikah
Girls may suggest some beautiful and graceful dress collection to their grooms. You may see our grooms walima dresses. To cover up the whole event you may also find the latest mehndi dresses for men and barat dresses for men. That can be followed to get in touch the latest Pakistani designers collection.
2. Bridal Mehndi Dresses Collection
The theme of mehndi dresses for Girls is often a yellow dress with green, pink or red dupatta. The branded collection of mehndi dresses for women has great stuff. It's one of the most cheerful event. Most joy able and full of colors. So the bridal appearance on mehndi day matters a lot. This look is usually simple but elegant. Ladies wear thematic clothes and also design their hands with the mehndi.
We can find a number of Bridal Mehndi Designs  can be found here.
1. Bridal Barat Dresses 2019
The latest bridal dress collection for baraat have a number of alternatives. In 2019, women can wear a ghaagra, sharara, ghagra cholis, long maxis or wedding gowns. The color combination is preferably red. The embroidered red ghaagra would provide an elegant and graceful look overall. The designers have used velvet along with the chiffon clothes to make these dresses wearable in winter. So these would be comfortable in winter too.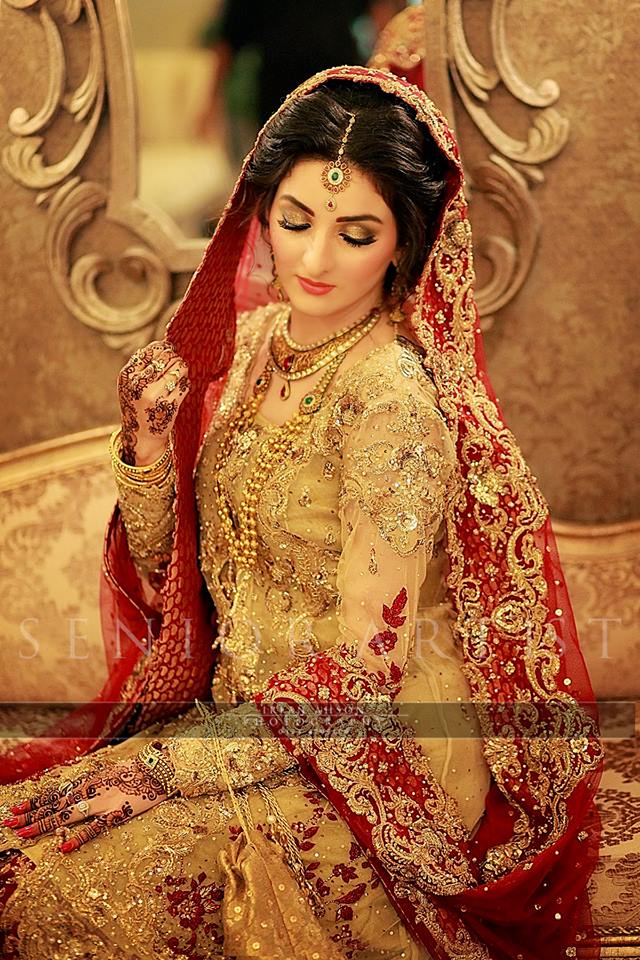 3. Bridal Walima Dresses for Girls
When it comes to walima, then an extraordinary dress for the bride is made up. It must be of dark color and embroidered. In 2019, heavily embroidered dress adorned with pearls, stones or thread work etc is in trend. In anarkali style, long embellished shirts on lehengas look fancy. Its dignified in its appearance. To have some idea about manicure see our top nail art trends. 
All above branded dress collection of Zainab Chottani, Tena Durrani, Natasha kamal, Almirah, Momina Teli, Sapphire are worth mentioning here. Their top selling brand for all wedding events are preferable always.
4. Latest Nikah Dresses for Bridal
In eastern marriages, Nikah ceremony is a supreme part of wedding. This event is specifically combined with barat. But sometimes, nikah ceremony is held apart from barat. Thats why, the bridal dress for nikah needs to be finalized. Mostly a heavy and embroidered  dress is chosen with multi color shades. Red, blue, pink, magenta and white colored lehenga or gharara is chosen. Our finest collection for nikah ceremony is given below.
A large collection for bridal wedding dresses 2019 collection have been presented to you above. We have shown a large collection of latest embroidery rich and heavy worked dresses according to the latest fashion trend of 2019 in Pakistan. You can also check our top Pakistani wedding dresses. I hope it would help you to get a stylish outfit or at least your brain can toss a new idea for making a new dress at your own by just having seen beautiful bridal wedding dress pictures shared above.
pan>