Latest Bridal Lehenga Designs 2023 in Pakistan
Get the most prevalent and delightful compilation of new bridal lehenga designs in Pakistan by Styleglow editors. On events like barat, walima, mehndi,  every bride needs to wear something advanced, upscaled and staggering. With regards to bridal wear in the west, white outfits are ideal while in eastern nations, for example, in Pakistan and India, variant shades especially red, silver, light pink, plum, orange, golden and green are the choice of brides.
Normally ladies are in the urge of bridal lehengas and shararas designs that are heavily embroidered by exploiting varying sorts of weaving like dabka, precious stone, rhinestone, zardosi, beats, and work of zari. In-person, we favor the marriage dresses having work of zari because they are horrendously famous at present and most of the women are familiar with it.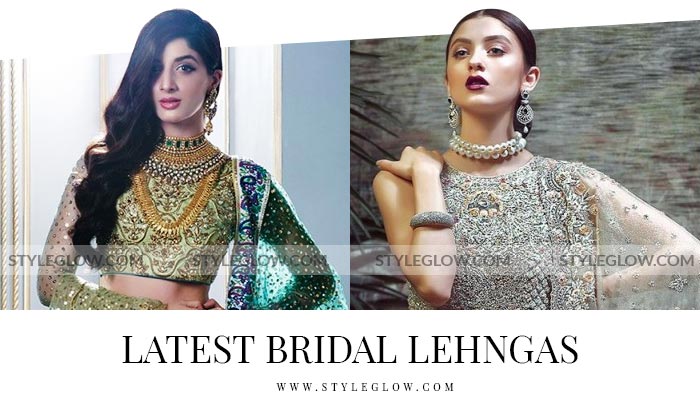 New Pakistani Lehenga Designs 2023 for Brides
There are various elegant types of lehengas designs for brides in Pakistan and as we all know, it also depends on the culture and how bold the families are. Bridal wear designers have stitched lehengas in the form of short kurti, long shirt, peplum, front open, tailed jacket, full sleeves, flared and without sleeves. These are the most famous styles in the category of lehenga and designers of the modern era.
Check out Pakistan's Top Designer Bridal Dresses for a wedding for more exposure. Don't miss the top list by our editors of New Bridal Dresses for barat day. For example, Tena Durrani, ELAN, Fahad Hussayn, Sania Maskatiya, HSY, Nomi Ansari, Maheen Khan, Zainab Chottani, Deepak Perwani, and many more have put together great influence when it comes to bridal dresses.
Pakistani weddings are most often comprised of Mehndi, Barat day, walima (wedding day), and after wedding parties or suppers. You can likewise check some different styles of Pakistani Wedding Dresses. and bridal walima dresses as well.
In Pakistan, wedding activities most of the time are Mehendi, Barat, and Waleema. These are the top events that are famous in the Pakistani community and women tend to erode Lehengas because they are the most famous when it comes to wedding dresses for brides.
Mehndi Lehenga Style for Brides
First comes the Mehendi day on which the bride selects a lehenga mostly in the shades of yellow, plum, and pink because they are the majority used shades for Mehendi along with light makeup and jewellery. The embroidery work done on the lehenga is not intense because the brides want to be at ease on the Mehendi function.
At certain occasions, Mehendi is also a certain thing to have, so take a glimpse of these latest Mehendi designs for any function.
Lehenga Designs for Barat 2023
After Mehendi comes Barat which is considered as the groom's wedding procession. On that day brides tend to wear a dress that is an elegant one full of (mostly handmade) Embroidery work with special work of zari, dabka, beats, stones, and zardosi. Check out our latest Bridal Barat Dresses ideas to make your mind.
The color tone of the dresses worn on Barat are most of the time red but upcoming designers have emerged many other combinations that include light pink, maroon, silver, light orange, and golden.
Latest Bridal Waleema Dresses
The outfit except the color red is worn at the Waleema ceremony in accordance with the latest trends. Shades alike light grey, tea pink, parrot green, baby pink, sea green, sky blue,  peach, smoke, offwhite, and cream are inherited on this day.
Our Bridal Walima dress collection will hopefully help you out in selection.
The embroidery work done on the dress of the bride is heavier than that on Mehendi but is just a bit light as compared to the Barat dress.
Last Words
Here you have gone through the most astounding collection of bridal lehenga design 2023. As for now, we hope you will be well aware of the type and style of lehenga that you would surely wear at your wedding or select for some relative.