Latest Mehndi Dresses for Men 2018 Best Collection
Mehndi dresses for men has diversity in its collection. Its most cheerful and enjoyable event in any wedding with brights color everywhere. Without any exaggeration, this is the heart of any wedding ceremony. Both Bride and Groom make special preparations for this event. Since delight and delectation is on peak.
To make it memorable and enthralling, the best selection of Mehndi Dress is undeniable. Brides have a lot of dress collection and number of choices on which dress to chose and what to wear. Their dressing sense is natural and instinctual.
When it comes to men, they always find it a confusing job. Grooms think that they have limited choices. But this is not the case. A large Pakistani Mehndi Dress Collection is available for males. Multiple dress options with different colors, stuff and brands is available in the market.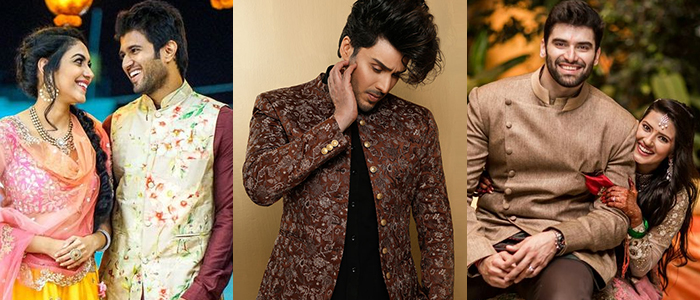 Popular Mehndi Dresses for Groom in Pakistan
Grooms have multiple options in Pakistan for mehndi Dress Selection 2018. This article will guide you to find a perfect dressing style for Dulha Brother. The dressing styles mentioned above are mixed and random. Now we will discuss mehandi day dresses in detail.
The best combination for boys are
Kurta Pajama and waistcoat for men's wedding
Shalwar kameez and waistcoat
Sherwani suit style
To have more clear idea, you may look for our new kurta dress collection for men specifically. We are going to suggest you some trendiest men's mehndi dresses 2018 that will help you surely in making your mind to chose a suitable and perfect combination of wedding dress. So here we go!
From the above listed gallery you may have an idea about the Dressing style on mehndi. There is a lot more collection that we will discuss in the later post. One thing have been cleared until now that dark color kurtas Pajamas and waistcoats are in trend on mehandi ceremony.
Red, white, green, brown, blue and black kurtas with highly contrast waistcoats  look more appealing and fascinating to the audience. Its graceful and decent in appearance as well. Shiny dresses are also in fashion. Sherwanis are also in fashion on mehandi occasion.
1. Kurta Pajama/Shalwar and waistcoat Combination
Kurta pajama and waistcoat is traditionally considered as best mehndi dress for men in 2018. It is the most trending fashion style among the boys from the past several years and still it is the most popular.
Actually the thing that becomes a part of culture can never be outdated. We feel ease and blissfulness when we are near to our own customs and traditions.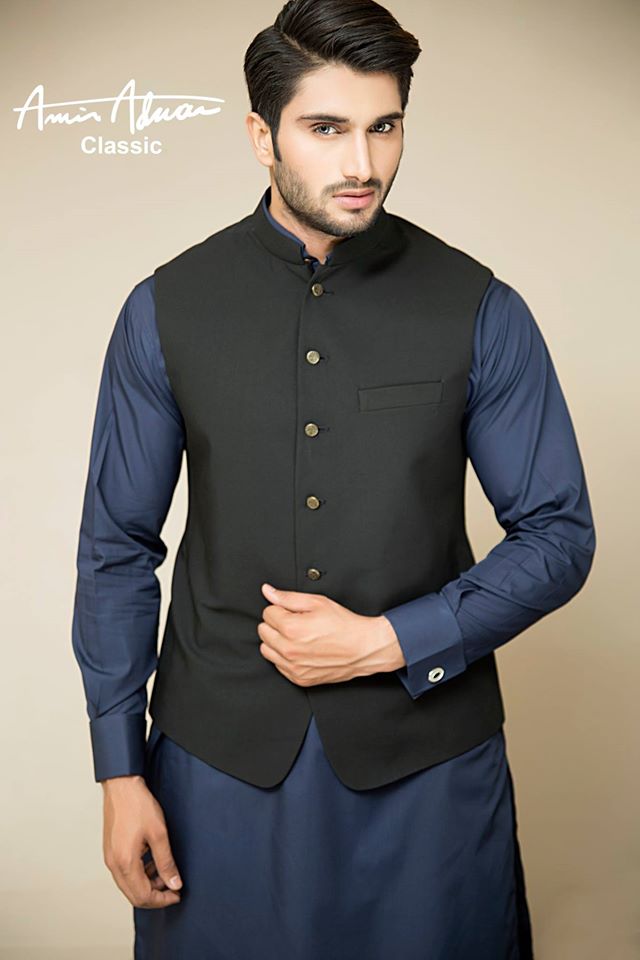 This thing makes our attachment with our people and we remain in a natural flow. Kurta pajama or shalwar and waistcoat combination on mehndi day is for groom, groom brothers and cousins.
You can also check out men pant coat and vest coat collection if you want to appear in western look . In our culture, in Pakistan and India especially, Yellow duppata is also worn that is associated with the mehndi function specifically.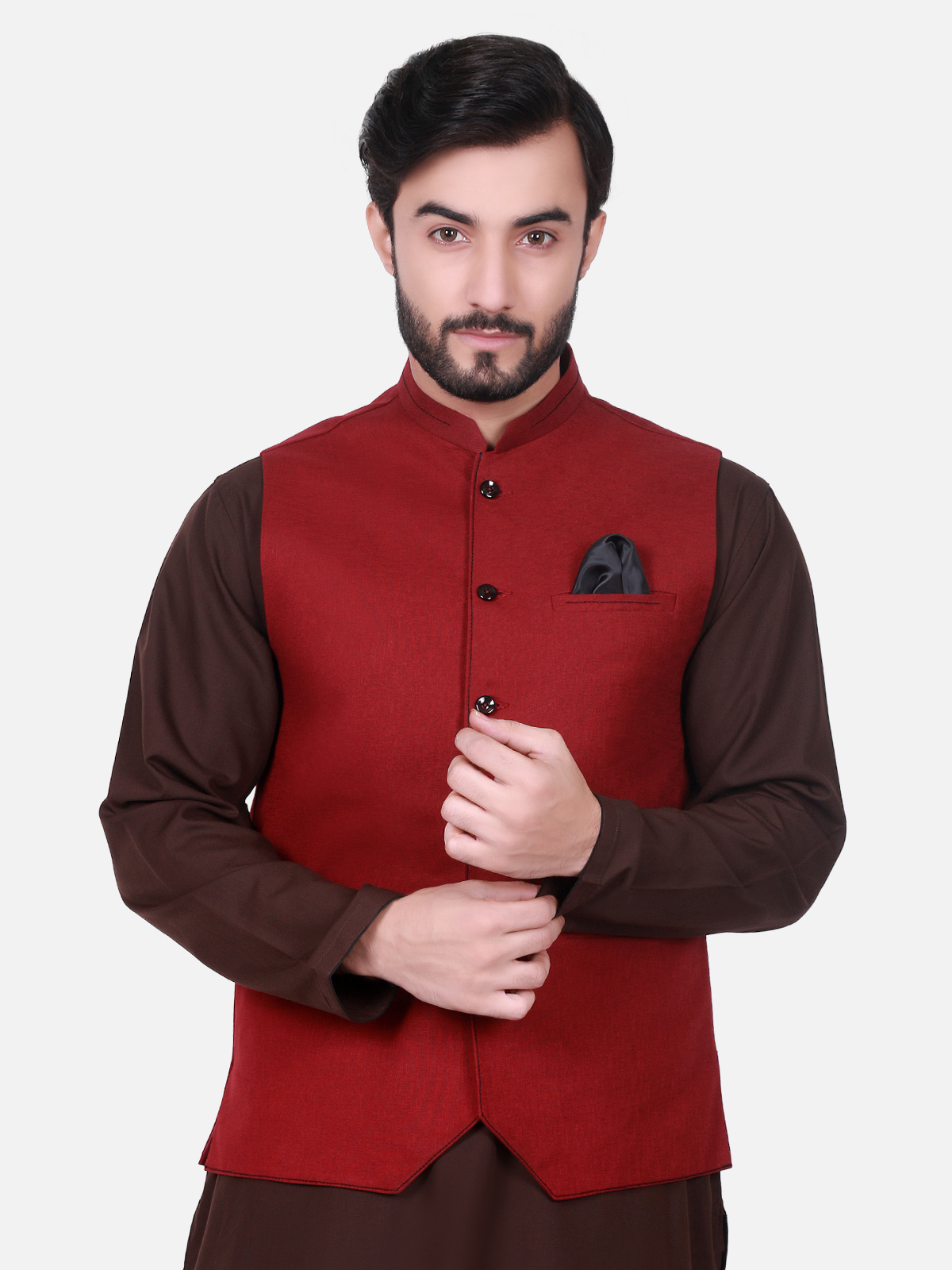 The above branded collection by Amir Adnan, a famous Paksitani dress designer is specific with the wedding function. Like Barat, Mehndi and Walima etc. Its not specific with a certain event but grooms or all other men can wear this waistcoat style with a shalwar kameez or pajama combination. It you wear a yellow Dupatta with this dress then you are ready to rock in your Mehndi Function.
2. Sherwani Suit Style for Mehndi Day
The second priority for men is always sherwani  as mehndi dress. The men who prefer looking more gentle and dignified on their wedding, wear sherwani. Since it provides them a royal look. What Sherwani style are trending in the market? and what will be the choices that we can make? shwerwani can be worn on other wedding events like barat you can also find the Barat Sherwani designs.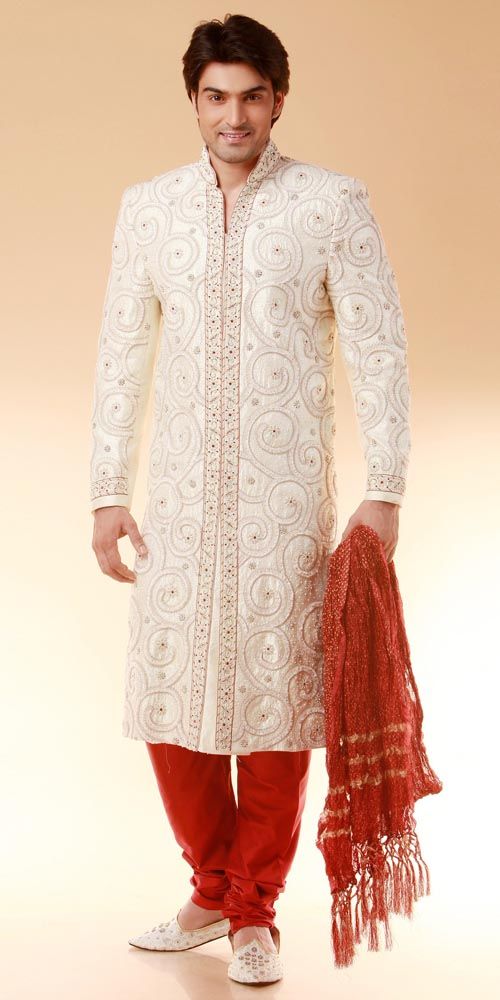 Collection of sherwani for the men dressing style on mehndi have numerous alternatives in color and stuff. Simple and embroidery sherwanis are available with different brands like Amir Adnan, HSY, Junaid jamshed, Deepak Parwani, Nomi Ansari, Fahad Hussayn, Almirah and Humayun Alamgir. You may follow their latest designs and trending stuff.
After observing mehndi day dresses for men, the collection of sherwanis, kurta pajama and waistcoat, you must have made your mind to chose one of these for your mehndi ceremony.
Both these styles are trending now a days. Grooms have a lot more collection to discover for their wedding. Brides too have an unlimited collection for their dressing style. The fascinating look and absorbing personalities adorned with these dresses would look awesome!
Latest Fashion Trends: