Pakistani Unique Wedding Entrance Ideas 2023
Nowadays events have become more of a ramp walk and Pakistani wedding entrance ideas 2023, especially for bride and groom, are being accompanied by impersonating decorations. Brides and grooms have become more advanced with the passage of time and are always in search of some unique idea regarding their marriage entrance that can make a mark on peoples mind.
In accordance with old traditions of Asian community bride and groom entered one by one or with each other followed by their siblings and family members. But as for now, those trends have changed drastically and as the bride and groom get prepared for the biggest day of their lives, their siblings are not only on the urge of decorating the marriage hall but also have a compelling idea for the entrance of the pair.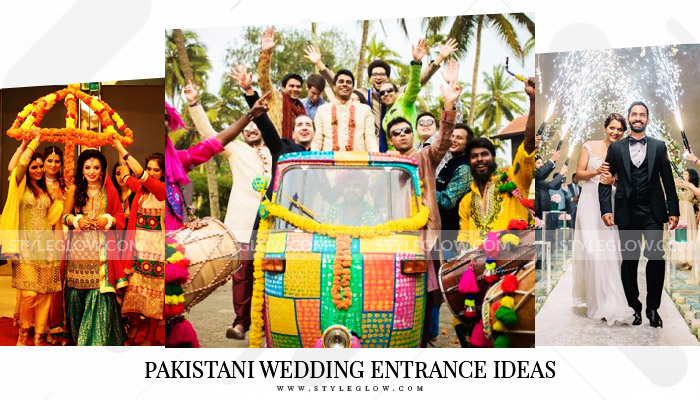 Most Popular Wedding Entrance Ideas 2023
The main idea of bride and groom's wedding entrance 2023 is to make their marriage ceremony more remarkable and full of fun for the guests. To do that you don't have to worry because the Styleglow team has brainstormed top ideas for you that you could apply for your wedding day and can make a statement.
There are so many ways to arrive at your wedding receptions in multiple stylish forms and to perform out of the receptacle.Whether you have an unlimited budget or you don't have a good amount of money to spare, still you can make a memorable debut for the guests.
Everyone on wedding day wants to enjoy the celebrations in an elegant way and do a lot of plannings to double the joy. Girls who are always looking for the trendiest hairstyle designs for wedding days should focus here. Altogether this day is for showing love to your relatives in a sole different way.
If something joyous is involved from the sides of bride and groom, it can have a lovely carving effect on your guests and relatives for the rest of your lives in their hearts.
Entrance Ideas for Mehndi Day
On Mehendi day lady and the groom arrive in their bridal mehndi dress in diverse ways, siblings of the bride have a doli on their shoulders which is decorated with flowers or with some latest patterns of the modern age, and the groom comes in with style to have a unique impression on the guests along with his siblings/partners who are dancing around him.
This is an old idea but is still followed by our community with brand-new patterns of decorating the doli and new layouts are also available in the market for doli designs. You can also apply Mehendi in these up to dated wedding mehndi designs for the Mehendi day function.
Most of the western ideas for the entrance are being adopted in Asian culture as well because they are packed with entertainment and surprising facts. Those time have passed when brides and grooms were shy, nowadays they are more open-minded and try their best to plot something with the help of their siblings.
Walima Party Entry Style
On Walima day new techniques have been adopted to make the entrance more cherished which include a pop-up party, playing a meaningful song, the majestic style entrance, throw a dance party, arrive in a unique vehicle, or use extras to your advantage.
Having outfits from one of these designers wear bridal walima dresses will make your entrance even more outrageous. People have unique ideas and apply their own mind patterns to their functions according to their arrangements that they have made for Walima day.
Barat Day Unique Ideas for Wedding
As far as the day of Barat is concerned regarding the entry point, they can most likely do a majestic style entrance, and just like a show stopper magician all spotlights will be on them. To add more charm to your entrance blow some balloons full of glitters or place small party blasters that will explode as you proceed towards the stage.
Styleglow Words for You
Here you have known about charming Pakistani wedding entrance ideas that you could apply for your wedding entrance. The discussed techniques are adopted by most of the wedding pairs of today's age so that they can remember their beautiful days of being one in their own style. It is one of the ways to show your love to your family members in style.