Beautiful Bridal Engagement Dresses 2023 in Pakistan
When it comes to engagement dresses, all the beautiful bridal engagement dresses 2023 in Pakistan are here to mesmerize your thoughts. Engagement is an event in which a relationship is created between the bride and the groom by exchanging rings. The groom's family puts a ring in the bride's hand and so does the bride's family put it in the groom's hand.
Some families go for a grand event while others go for a miniature one or even celebrate this function at home. The bride can wear any dress like Maxis, Lehenga, Gharara, long/short frock or any other dress on engagement and it is up to her which color combination she wants to possess for her promising day.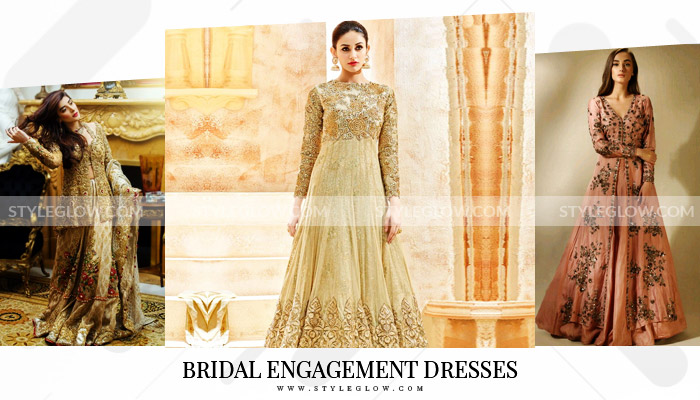 Best Bridal Engagement Dresses Designs 2023
Bridal engagement dresses designs are not like wedding dresses it is lighter in embroidery because it's considered as a pre-wedding ceremony and ladies choose outfits in hue color scheme, especially in 2023. Usually, ladies tend to choose silver or even golden color dresses for their engagement day because they are mostly observed on certain occasions.
It would be better for you to go for light kind of shades on your engagement ceremony because you surely will look more embellishing and novice. You can also choose from Bridal Walima Dresses because Walima dresses are mostly in light shades and women opt for these shades for their formal parties either.
The best way to add beauty to your look is by adorning a bridal makeup style and by making your dress stitched with Tilla and dabka at least. Having a lighter and fancier touch will do the trick for you on your big day. Adding some bridal jewelry sets with your dress will be a plus and wearing a long frock will make you a primal focal point of fascination.
Lehenga Dress for Engagement
Lehenga dress for your big day will be a significant choice because before wedding days get started you should have an idea that how you look in this dressing technique. Pakistani designers are always in the urge of delivering the community with distinctive plans and styles.
Their Lehenga designs are not only for bridal wear but also can be adorned on certain festivities like engagements, formal parties, Eid-Milan Parties, and short gatherings.
You can also go for dress stitching styling or wear a long shirt with simple or churidar pajama but it is clearly up to you to choose what to wear to your engagement ceremony. Women who are engaged now can collect ideas about Bridal Barat dresses to save their time.
Beautiful Frock for Engagement 2023
Brides want to look more subtle and yet highlighted in their engagement ceremony, most of them get confused about what they should try. The frock design of any length will be one of the best options to choose from in any vogue shading mix. Every young lady needs to pick her dress deliberately and remember the most recent design patterns and be subjective.
A percentage of the unmistakable hues found in the engagement dresses are white, blue, pink, purple, red, maroon, orange, yellow, green, fuchsia, peach, and so forth.
All the designed engagement dresses are woven by keeping in mind all the latest trends of the modern era. Ladies would surely look ravishing in these outfits whatever the conditions or occasions are.
So, for now, we have discussed those dresses that are in accordance with the trends and if your engagement is just on the go then you are on the right spot for choosing from these gatherings.
Styleglow Words
You will surely find beautiful bridal engagement dresses 2023 in Pakistan for your getting engaged day. As for now you are well aware of these outfits and know what type of dress to acquire. Let us know which is your best choice among the collection gathered above for bridal engagement dresses. Dresses with unique styling techniques can be adored on this day.