Pakistani Bridal Makeup for Wedding 2023
For attaining a flawless look for your makeup skins, Pakistani bridal makeup 2023 for a wedding is all you need. Every young girl and women knows that bridal makeup is the most prominent thing to be seen on wedding days. Women are pretty conscious about what they are going to wear or how they will look but it all depends on the choices you will make for your wedding day.
As the wedding dates of the bride and groom are announced not only the couple is ready to show their best flashes but all the callers/relatives are anxiously waiting to see their luxurious looks. So, a wedding makeover must be appealing and glowing in certain conditions for both the bride and the groom.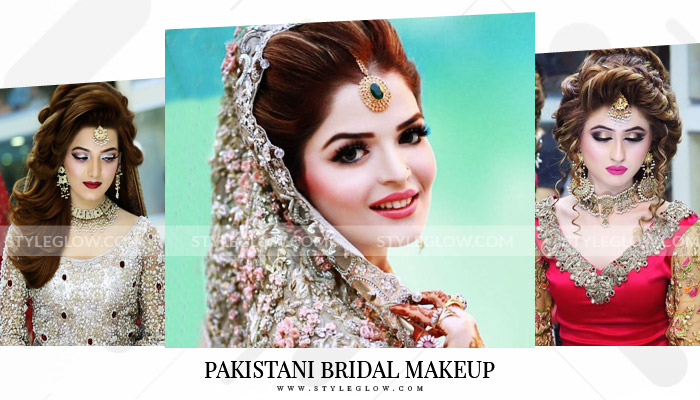 Latest Best Pakistani Bridal Makeup Tips & Ideas
Your bridal makeup for the wedding day is all that you should hold your focus on for producing a manifestation as a bride. In 2023, every young lady dream to look like a queen in the most anticipated moment of her life. And on the next day of Barat, the bride is departed with some blushy makeup that summons every person's thoughts. So by possessing an extraordinary Pakistani bridal dress your desires can be fulfilled.
An earlier planning for makeup will save your time and don't feel hesitated to apply all beauty strategies in order. With guidance from our team your bridal beauty look, whichever you may choose, will gorgeously embellish your appearance throughout the whole wedding ceremony.
To have a real bridal look there are many popular beauty parlors or beauticians that have expertise in their fields from head to toe decking. For a simplistic appearance try out these trending bridal hairstyles along with any wardrobe dress on the wedding day.
You can apply compositions depending on the wedding day. On Mehndi day, a light composition is selected to maintain your look as there are certain traditions to be performed and for that bride maintain her comfort zone on this day. As far as on Walima day, the bridal makeup scheme is going to be noticed by every single woman present in the hall.
Bridal Mehndi Makeup Designs
Mehndi day is considered as a starter in the marriage function. Girls apply mehndi designs for girls on the hands of the lady getting married and most don't go to the parlors for a makeover and get themselves prepared at home with help from their siblings.
On the Mehendi function, light makeup is preferred with light ladies mehndi dresses as other traditional activities are to be performed with the bride and groom according to our society.
Bridal Makeup for Walima Day
On Walima day bridal makeup along with her embroidered lehenga dress creates a significant mark on the guests. In Pakistan, brides tend to possess makeup with smoky eyes and dark lipstick color especially red to have a hot appearance overall. Each bride knows her best looks and to personify her dream she adores such magnificent layouts that make her the lady of the moment.
Barat Makeup for Bride
Whatever you are going to choose for Barat day is going to be completed according to your dress and jewelry type. massively enriched with pearls and other gemstones, Barat dresses require a substantial makeup look that matches your dressing type in a unique way.
Most ladies wear bridal jewelry sets that are not comforting and they panic out but if you want to attain a balanced look go for pearl-styled jewelry as it is light in weight.
Styleglow Conclusion
Be ensured about what type of Pakistani bridal makeup for wedding day 2023 are you going to prefer. Plan your dressing, jewelry sets, makeovers, hairstyle, and other design patterns before time. Whatever look you are going to apply just make sure the seasonal conditions so that you won't panic out and maintain others' attention towards you throughout the matrimony.