Best Eye Makeup For Brown Eyes | Tips For Brown Eyes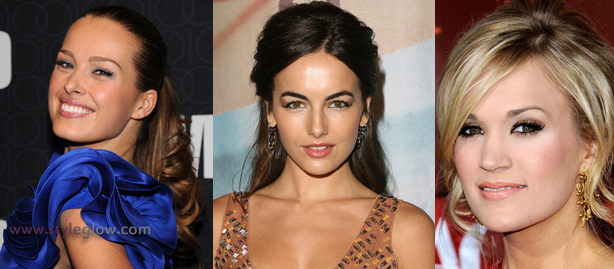 If you are having brown eyes then you are lucky girl or women because any cosmetic color can go with brown eye color. Since brown do not have an opposite color on the color wheel so any eyeshadow color goes with this! Consider the level of your eye color because the brown range from dark to light. Your level of color is a great factor for determining the right shades to make your peeper pop. There are four levels of brown eye color ranging from dark brown to very light brown (hazel).
Best Eye Makeup For Brown Eyes | Tips For Brown Eyes
If you are having brown eyes and worry about how to make up them, no fear ! Follow the best eye makeup tips for brown eyes given below.
For the Dark brown
If your eyes are dark brown medium to dark colors will go with it. Mauve, bronze, gold, plum, forest green, different shades of gray. To make your eyes really gorgeous use lighter flecks of color in your iris, contrast of light and dark looks visually pleasing. Application of black or brown mascara make brown eyes look wider. Check out Eva Longoria's smoky eye makeup for  dark brown eyes.
For The Medium Brown
According to the makeup experts medium brown eyes are the easiest to work with. If you have medium brown eyes you can truly wear almost any color of eyeshadows. Violet, purple, bronze and gold, copper and green look outstanding for medium brown eyes. See this Jessica Alba 's blue and gold eye shadow.
For light brown eyes
Light brown eyes look striking, use pale or neutral eye makeup colors on your lid. For making your eyes more attractive use dark colors in the crease to reflect the color of your eyes. See Mila Kunis's blend of peach and gray, making her eyes more elegant.
For Very Light Brown Eyes
If your eyes are very light brown, this color is called hazel. Choose colors of violet, champagne, and bronze. Highlights of pink and peach and apricot works well with hazel eyes. Celebrity Rihanna is wearing teal eye makeup for enhancing her hazel eyes.
Eyeliner for brown eyes
Eyeliner plays an important role in making eyes prominent. Girls and women with brown eyes can apply any eyeliner shade like brown, navy blue, bronze, and dark gray. Before applying eyeliner just keep in view the looks you want to attain, if you are getting ready for a party or any other special occasion pair dark eyeliner with light eyeshadow and if you want to achieve a more natural look then apply minimum eyeliner.