Latest Fall Winter Nail Color Trends 2021
Ladies have started to search for the latest fall-winter nail color trends 2021 as winter has just begun. Nail color patterns are getting changed along with clothing styles that tend to change in the fashion industry. Use your nail as an accessory instead of other accessories. This winter/autumn adds strokes of romantic winter nail colors to enhance your style and can pair these colors with your chic winter sweaters as well.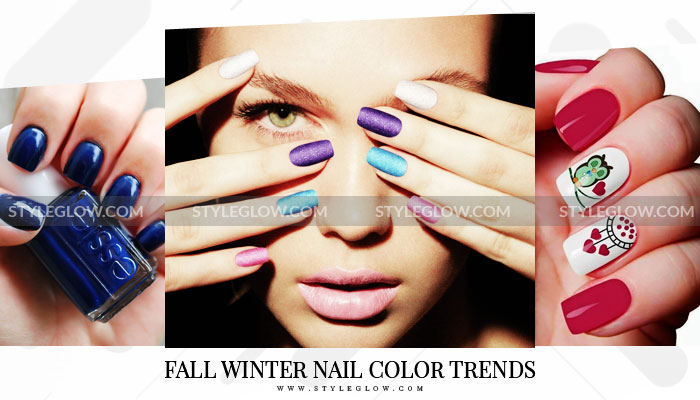 This season go for deeper tones, in summers, baby pink was in fashion but now with the change in weather conditions, deeper tones are in fashion. Along with cold weather and cloudy skies new nail lacquer is all that you should attain. Ladies go for heavy styles for their nails which you will find soon in this post.
Newest Fall Winter Nail Color Trends 2021
Different tones of blue, midnight blue, purplish blue, cobalt, navy blue, wet cement gray, Jade green, Shimmery shades of cocoa brown, and purple have become the choice of today's era women. The joy that these dark shades bring on women's faces is the first glimpse to catch in the winter season. Women always focus on their hands and feet, which picture their whole beauty, so here are some pedicure nail art ideas for them.
Deep color nail patterns can be applied at any occasion, whether it's a party or even a wedding ceremony. All girls like red nail polish most in winter because it manages to make their holidays perfect. Women also like spring colors for their nails in the winter season; the main reason is their mental satisfaction. Beautiful bride's dress will look elegant with these shades of popular nail polish colors.
.
Now search for deep neutrals and forget about different tones of pink. With the drastic change in fashion trends and the presence if social media, women know what directions are being followed and rush to buy such accessories. Wedding wear gowns with matching nail polish will complete your look on your big day.
Girls don't just pop up on any trending hairstyle idea these days but try to capture their look for a long time and search out for it on the internet. Before overhauling the trendiest winter nail polish ideas below, schedule a pedicure and manicure at home to make it easier to manage any style you want. If you are new to nail art and want to learn how to apply nail polish on hands, then click the link.
Essie Winter Nail Colors
When it comes to winter nail colors, Essie is a brand that has its mark in multiple countries as it is a multinational brand and been providing its unusual and elegant color patterns for years. Essie Weingarten is the lady behind this remarkable trademark and has her manifestation in the cosmetic industry ever since.
Essie is better known for its nail polish hues, and from simple, plain to glittery, dark colors, it has its unique ravishing technique of making such exceptional substance. Beautiful Christmas nail art designs are also available here.
Different shades of the nail mentioned above polishes will make your hands charming and look pretty in a real sense. We advise you to try all these shades matching with your hairstyle and dress overall. In this way, your outlook would be more elegant and impressive to the audience.
Styleglow Conclusion
Here in this post, you have observed the latest fall-winter nail color trends in 2021. So, whether you are getting ready for office, party, business meeting, or any special event, these nail polish trends will guarantee that your style is still steamy hot. Before applying, make sure your nails are buffed, trimmed with square tips, and rounded corners.