Most Popular Nail Polish Color Trends 2020 for Spring Summer
Want a charming look then go for these most popular nail polish color trends 2020 for the spring-summer season. These surely will add a touch of elegance to your dresses this summer/spring. Nails are the perfect accessory for this season from chic light to glowing dark nail colors are the mantra for manicure and pedicure.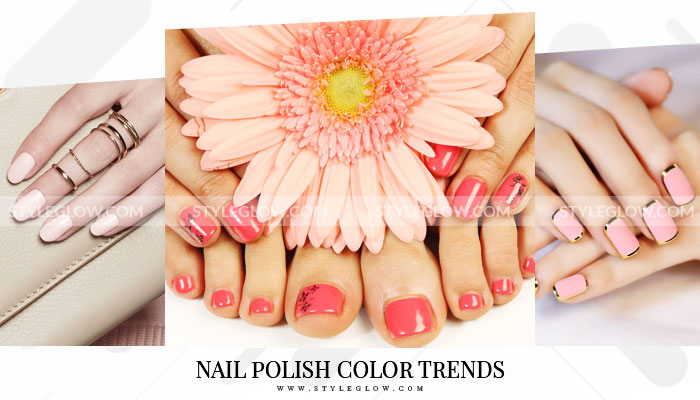 In the past few years nail art with compelling color combinations have become excessicely in use and women tend to adore them from simple to captivating designs. In summers ladies go for bold hues while in Springs ladies tend to choose random color shades with artistic designs that can change the whole scenario.
Hottest Nail Polish Color Trends 2020 in Pakistan
Nail paint makes nails adorable but when applied correctly according to the weather conditions it can make you look more striking. Nowadays nail art is the latest fashion trend, therefore, girls should be aware of the latest nail polish trends for the spring summer season. Below are the most popular nail polish color trends that you can be followed to make your nails more eye-catching.
The choice is clearly yours at the end of the day but we are here to guide you to choose wisely because these colors have a ballistic impact on your mode type. So choosing patterns that are in accordance with the atmospheric conditions, will surely put a glam on your look from hands to toe. When adoring these unique nail designs don't forget to have some prom nail design ideas that will uplift your personality.
Mojito green, soft grey, shimmery seafoam, warm copper, bright orange, metallic neutral, and dusty rose is the most popular colors to choose in summers and for the spring season classic red, shimmery purple, robin egg blue, light blue, magenta, mauve, and ballerina pink are the best hues. Also, try the zebra nail art designs to look advanced.
Bright Neon Hues Nail Polish
To make a bold statement in this season apply contrast neon hues as this trend is seen on and off the runways. You can apply China Glaze's yellow and pink, Essie's orange, Rescue beauty's cobalt and Orly's electric orange, neon green, mint green and purple nail polish tones with some polka dot nail art designs or floral nail art to add a wave of freshness.
These shades are mostly observed at the nail tips of young girls because of their refreshing color patterns and bright mental approach. You must also have a look at the fall-winter nail designs that are much glorified in its appearance.
Nude nail colours
Nude nails are the big hit for the summers, applying nude nail shades can give you a classic touch. Nail polishes like Sephora OPI neutral beauty, Deborah Lippmann's naked, Channel's Island, different tones from light to dark are available in cosmetic stores you can choose the nude color according to your skin tone.
Ever applied Mehendi with these unique and most popular Mehendi designs from the trends around. Ladies of middle age and unmarried girls tend to go for the nude color patterns because its also an age factor to choose which blueprint in which part of age.
Pastels nail shades
Pastel nail colors are another trend observed in fashion weeks, you can go for pastels as well to make your presence more sophisticated. The hue like sweet orange, pop pink, lemon and pretty green, candy green, lavender, pearl pink, peach and baby blue look best. These all are the adorable collection of nail shades and are liked by every age women.
Styleglow Conclusion
All these nail polish colour trends for the spring-summer season can be adorned with any kind of outfit because of their colouring scheme. They are unique in their own perspective and each color carries its own attractive layout. Your comments and reviews are all that we expect from you so leaving a comment will do the magic for us.