Zebra Print Nails Step by Step Tutorial | How to do Nail Art Guide

Many people like animal skin nail designs. That is why I decided to write a post about how to paint zebra nails step by step tutorial. Cosmetic stores are full of nail art equipment and nail stickers but all these nail products are expensive so do salon like zebra nail design at home with the help of easy step by step procedure, for convenience I added pictures as well.
You can do zebra toenail design at your toenails for making your feet look nice. For leopard and polka dot nail designs at home see this, leopard and polka dot nail designs at home. To do zebra nail design follow the steps below.
For this tutorial, you need to follow this guideline
Base color (white, pink, purple or any color of your choice)
Black nail polish
Topcoat
Toothpick or any thin brush
Don't forget to check this simple and latest nail art designs this year. check this if you are looking for pedicure nail art designs for summer.
Step 1
Select the base color of your choice because this nail design could be done in any nail color, I like zebra nail art because you can do it using rainbow colors that can go with any dress color but in this tutorial, I will use classic white and black colors. Before applying base color make sure your nails are neat and trimmed. Apply white base coat gently and let it dry. See picture below for more help.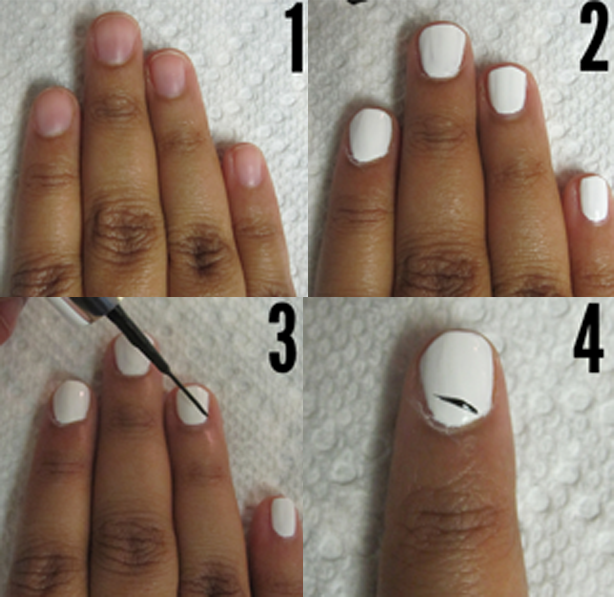 Step 2
Once the base color is dry, Take a thin brush and begin stripes, again gently and neatly. Be sure strokes are evenly angled and are in the same direction. Repeat the stripes as many as you wish. It better to do some practice on a piece of scrap paper before this mani and it is also prefered to put zebra pattern when you begin stripes.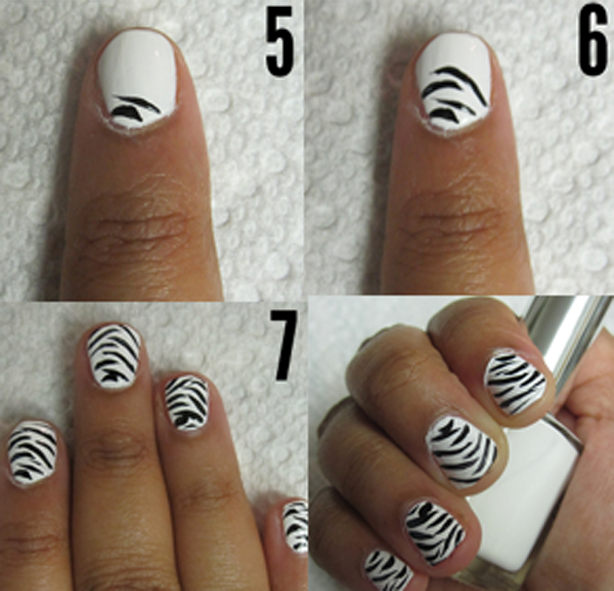 Step 3
Once the stripes are dry, apply a thick top coat to give a finishing look.
This is how you can give yourself a zebra printed nail art design at home. Just remember the key to professional nail art is practice. Keep practicing and you will be a professional. Let me know about your feedback in the comment section below.
See these related posts
Latest Fashion Trends: