Most Popular Nail Art Trends & Tutorials 2020
Let's get our nails ready with the most popular nail art trends and tutorials 2020 for all season. Every woman who wish to look fashionable and beautiful, nail art is a wonderful way to enhance her personality. You can try different nail designs to add value to your dresses and the key to attain perfection in applying n9ail design is just practice.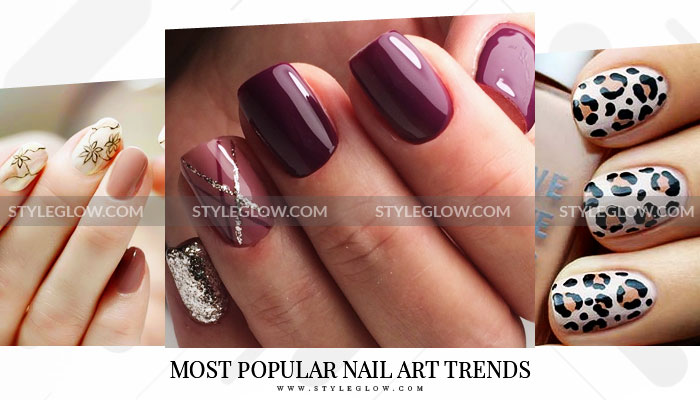 All the latest nail designs are of simple, complicated and chic patterns as many celebrities and models are seen displaying them on certain occasions like couture weeks, parties and gatherings. Following latest nail art trends and ideas are anticipated to be in fashion based on fashion weeks, runways, and celebrities.
Current Nail Design trends & tutorials 2020
Here are the most popular nail design trends and tutorials with super and easy step by step guidance including pictures so that everyone can easily perform a manicure at home. Ladies who don't have much time to go to the parlors or saloons should follow these straightforward steps by staying at home. Anything style can be easily adorned with patience and keep on practicing.
To attain a perfect look is what every woman want and on special occasions where everyone is in focus and lurking around on each costume. You can check our Prom Nail Design Ideas for the perfect look. From head to toe women are in search of random styles that are different from others all the way and in accordance with the latest fashion aims.
These styling techniques are quick and easy to apply on your nails and are for every kind of weather condition. Whether its the hotness of summers or the cool winter breeze, the gathered nails collection will signify your presence with these trendy party wear dresses.
When it comes to manicure details women are most of the time observed with leopard printed nails, zebra prints, polka dots, ombre nails patterns, Glitter tips, Heart nail designs, Lace nail art, and Half moon nail art design. Young girls who are new to the nails art trends can review the complete zebra nail art design tutorials.
Short Nail Art Trends for Girls
How to style your nails if they are short? Don't panic out as we are here with the patterns that will surely be your savior for the day. Doing nail art on short nails is a bit challenging scenario but it doesn't mean that you can't achieve latest Halloween nail designs patterns. No matter how big or smaller the canvas is, artistic ideas can always be applied to any type of nails.
Short nails look simpler than long ones with beautiful Christmas nail art design and are easy to maintain. If you do not want to grow them out longer then it gives an idea regarding your personality and it means that you like things that are in their simplest state which plots a good impact on others.
Cute Long Nail Designs
Ladies nails are an extension of what they like to take on and most ladies who don't have long nails stick temporary ones to fulfill their need. If you feel bored with those classical nail tones and are lurking around for fun and entertaining prints, then you are on the perfect spot because in this post you will surely find that perfect match for your nails. You can easily manage to get these long nail designs at home.
Styleglow Words
For all the most popular nail art trends and tutorials for this year, we hope you have a great idea now to choose a style for a manicure on your upcoming festival occasion. Don't forget to leave a comment in the section below as your words are important for us and also suggest us and others about the designs that we have clustered above for your loved ones.