6 Best Easy & Charming DIY Halloween Nail Art Design Tutorials
6 Best easy & charming DIY Halloween nail art design tutorials are all about how to decorate your nails for Halloween Eve in easy way at home with the help of tutorials that I am going to share below. In this October you can enjoy theses cute and simple nail designs by doing it yourself without going to nail saloon.  Halloween nail art is a beautiful way to spice up your look, it can add a distinctive flair to your appearance. For very detailed and complicated nail art designs there are a number of tricks and techniques that you can apply at home, what you need is a little practice and a lot of patience. Observe the tutorials carefully and do your nails at home without spending big amounts in beauty saloons as these are very simple yet trendy designs to attain spooky looks.
6 Best Easy & Charming DIY Halloween Nail Art Design Tutorials
Here are quick and easy Halloween nail art tutorials to do it yourself to save time and money that I have collected from the web. You do not need to buy any nail art tool, you can use toothpicks to make skull and dripping nails.
1. Skull nail tutorial to get a spooky look for Halloween
Try this classic black and white skull nail art as it is very simple as shown in the pictures below, you can try this with neon colors as well.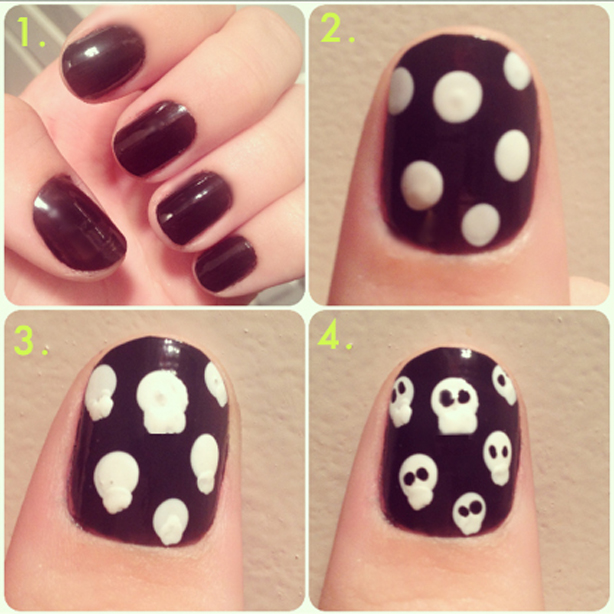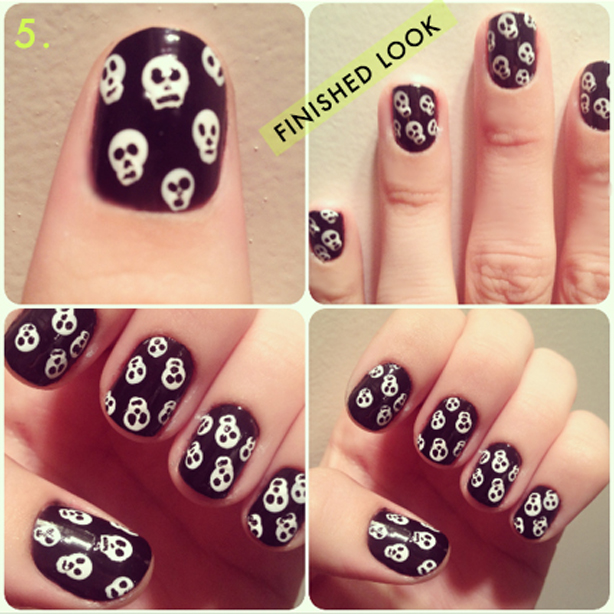 2. Halloween dripping/vampire bite nail tutorial
This October get inspired by dripping nails to have zombie looks, it is easy to do you can do this even without practice because this must look messy, follow the step by step dripping nail picture tutorial,choose vampy hues to create this nail design.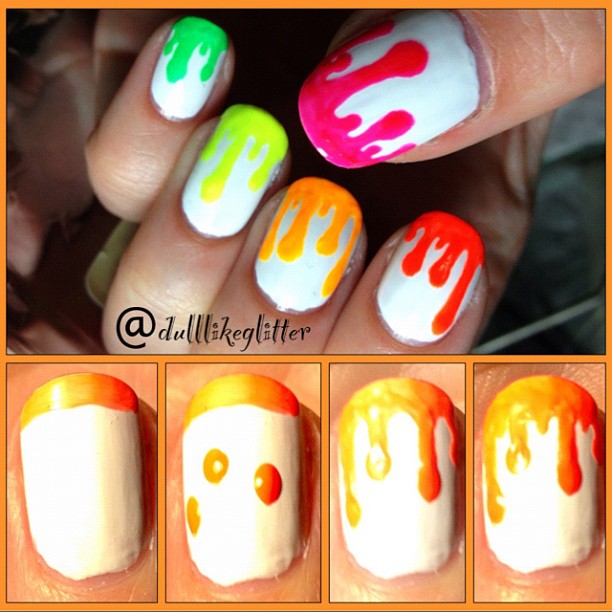 3. Scary and bloody DIY nail tutorial for Halloween
Decorate your nails decorated like zombies to terrify others and to enjoy Halloween.

4. DIY spider nail design for Halloween
Spider nail design is one of the easiest nail art to try at home, you can do it by observing the picture tutorial below.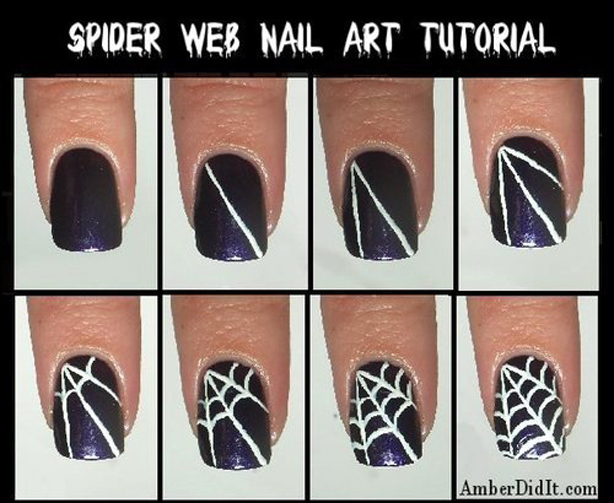 5. Simple step by step pumpkin nail tutorial
A very simple step by step pumpkin nail art tutorial for beginners to do it yourself at home.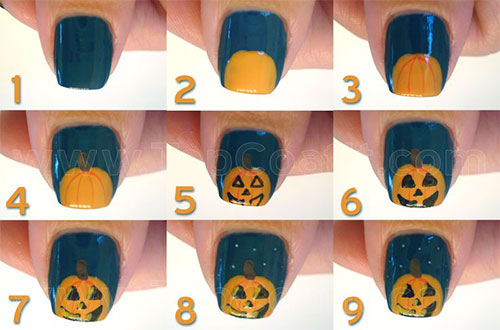 6. Ghost nail tutorial
To get spooky nails follow this easy simple step by step picture ghost nail tutorial.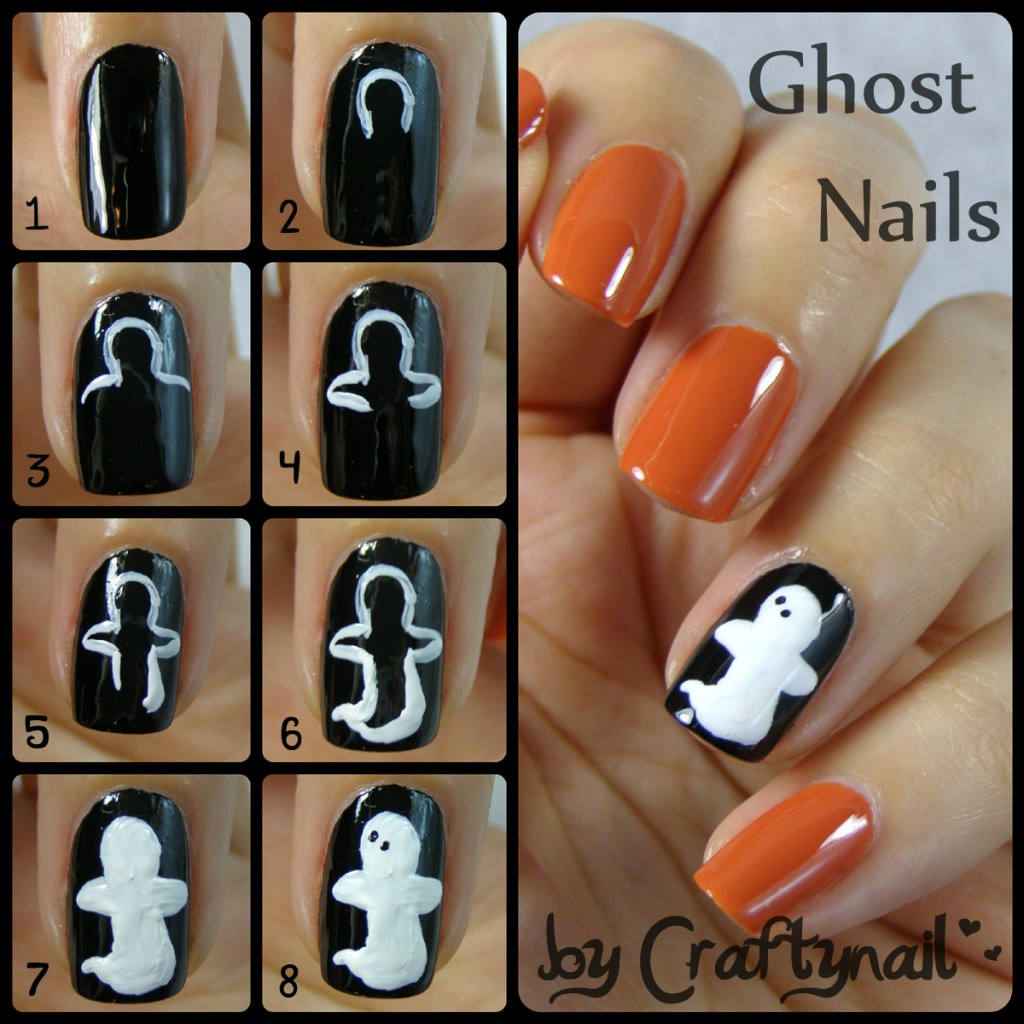 Related posts: