Popular Bridal Mehndi Dresses 2023 Beautiful Designs
The most popular designs for the bridal mehndi dresses of 2023 are now up in the market. In Pakistan, the mehndi or mayoun are traditionally celebrated with full zeal and zest. Men wear kurta shalwar and girls wear multi-color dresses including lehenga and sharara along with yellow dupatta. Pakistani brides mostly use to wear sharara and lehenga on their mehndi day. It is the most common and trendiest among all wedding circles. 
In Pakistan's latest trends of 2020, frocks and ghagra cholis are also so popular. These are basically the colors of our traditions and conventions. Bridal dress design selection totally depends upon the family's own customs and practices. So people rely on their own past experiences and preferences. We will make you aware of Pakistani designers wedding dresses 2023 collections prescribed according to the latest trends for marriage ceremonies. 
Here, we will share the latest and most popular designs for bridal mehndi dresses. The multi-hued dresses for mehndi are the main choice for women and girls.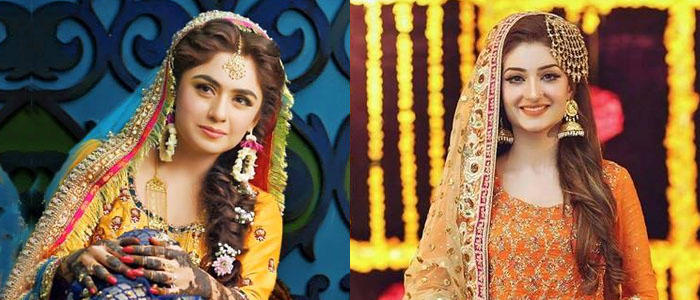 Bridal Mehndi Dresses for Pakistani Girls 2023
Now the girls have a large and latest collection of 2023 for their bridal mehndi dresses. Dark color combinations are preferred for this cheerful event. Mostly green, yellow, white, pink, orange and magenta colour dresses are being used for this event. The shades of these colours are used in a convoluted sequence which brightens up the whole dress. Other than lehenga and sharara, frocks and cholis combination is also perfect. The glowing colors of bridal dresses make her look engaging and compelling. 
Mehndi is the most exuberant and delightful event at any wedding. It's being liked due to its amusing traditions and fascinating outfits. It's the most colorful and captivating ceremony. The decoration of hands with henna is also a mandatory part of this function. So to have an idea of the latest bridal dress designs, you can check out our latest mehndi designs for brides and girls. This is a quick overview of this article. Now we will discuss all the bridal mehndi dress designs in detail.
Mehndi Sharara and lehenga collection
Frocks and ghagra for brides
1. Sharara and Lehenga Designs for Mehndi Event 2023
The latest Pakistani collection 2023 of mehndi lehenga and Sharara for bridal attire is now launched by prestigious Pakistani dress designers. The designers like Maria B and Zainab Chottani collection of mehndi dresses is also present nowadays. Brides have options in dressing style either they want to wear a multi-hued lehenga and sharara or want to go with a simple uni-colored shiny dress. It totally depends upon the bride's choice.
Yellow, green, pink, magenta, orange-colored lehengas, or kurta shalwar are most popular. All of the above, a yellow dupatta with gota kinari work is the main item for mehndi. See our off-the-ramp heavily embroidered bridal Barat dresses and bridal walima dress designs a modern collection of 2023. Here is our picture collection for mehndi dress designs.
There are many styles for lehengas. Like fishtail lehenga, flared lehenga, and the traditional Hyderabadi style lehenga. Each lehenga has its own stuff and color specifications.
You are ready for your wedding but what about your Groom? find our latest mehndi dresses for men ultimate collection. For other events like Barat, walima, and nikah, find our recent and best collection of men barat dresses and walima dresses for men 2023.
2. Frocks and Ghagra Style for Mehndi
Ghagra cholis appear to be traditional and elegant at the same time. Most of the dresses for example dupattas in this collection are made up of chiffon and the shirt and lehengas are made up of printed jamawars. Some of the dresses have patches of jamawar on the border of the lehenga or on the knee of sharara.
This is the second most famous dressing style for brides in this gleeful ceremony. Along with wedding melodious songs and cherished memories, the shocking dark colors of ladies' frocks create a spellbound. Pakistani designer bridal frocks are now launched in the market. Mehndi event is so extensive that dressing combinations and styles are more than enough.
The above Pakistani bridals mehndi dresses collection for 2023 is suggested by our top fashion dress designers. Designers like Asim Jofa, Nomi Ansari, Teena Durrani, Mirusah, and Sania Maskatya are famous for women or bridal wedding dress designing. Their recommendations about the mehndi dress selection may help you a lot. These designs are really very thrilling and inspirational for all the brides who are confused about their dress on this big day.
So these masterpieces can help you definitely in making your day. Just grab one of them and make your day ever-delightful and magnificent.