Latest Tips For Fall Winter Boots Buying | Online Shopping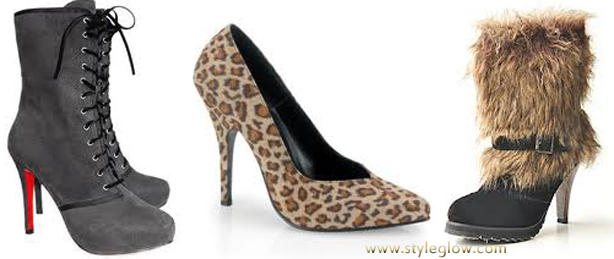 As winter starts one must have to shop necessary things like a long coat, jacket, glove,  scarf, and especially warm and cozy winter shoes in order to save yourself from the harsh and cold weather. Comfortable and easy shoes save your feet from cruel cold weather winds that make your feet hard and cracked. Winter shoes come in a variety of textures (leather), different colors, in innovative styles and designs (ankle boots, strap and high heeled shoes, coat shoes, pumps, weges, flats, mid heels ). Being a woman, you desire to look fashionable and glamorous that's why shoe selection is a bit tricky for the ladies because they pair trends and styles with functionality. Now you do not need to worry about fall winter boot buying / online shopping  just read the following tips, then I hope so you will get an idea for purchasing the right shoes for you.
You may also read these posts to keep yourself up-to-date with latest fashion trends.
Latest Tips For Fall Winter Boots Buying | Online Shopping
Consider your need
Functionality
Color
Fashionability
In accordance with your place to wear
Consider your need
Whenever you are going for shopping anything not only shoes, always consider your need. Before going to buy shoes make your mind whether you need functionality or fashionabilty. Need consideration before shopping will help you a lot and will save your precious time.
Functionality
By functionality I mean shoes must be comfortable and warm to save feet from the harsh winter season.If you select an uncomfortable, uneasy shoes that is not according to your need will be non functional for you, and it is wastage of time and money.While purchasing shoes keep in view functionality.
Fashionability
Ladies always prefer new and trendy shoes, sandals, boots. Before purchasing must make your mind that which style is suitable, during winter ankle boots, warm sheepskin boots, and for casual use pumps, for school going girls sneakers are good.
Shoes color
Shoes color must be in accordance with your dress and the place you are going to attend. Black is the classic color for business and office going people, brown color goes with any dress color and you can wear this color in any occasion.Therefore, before shopping check out your wardrobe to see the dress colors so the you can select shoes according to your dress colors.
In accordance with the place you wear
If you are going to get a shoe for any special occasion like prom night, business dinner, party or wedding then selects a shoe that compliments your dress and enhance your personality as well.