Victoria Beckham's Ready To Wear Winter Collection And Bags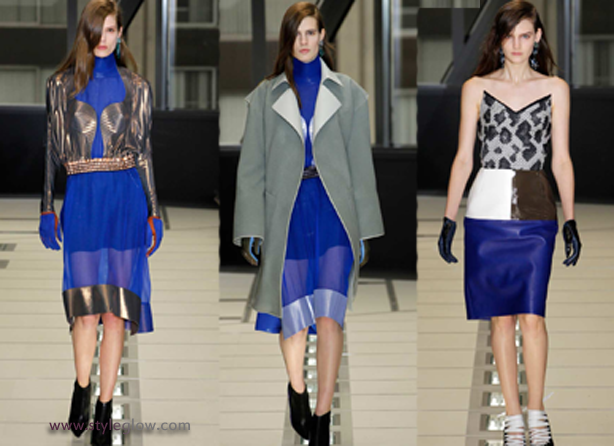 Victoria Beckham born in April 17,1974 in England. The fashion heavyweight, she has been on the global fashion radar for the last 10 to 12 years, a name with instant worldwide recognition is synonymous with ultra-chic, glamorous seemingly limitless supply of knockout designs. She started her career as a pop singer by joining spice girls and became famous in the late 1990s. Beckham has achieved a higher level of recognition as an international style icon, rather than as a musician. Beckham appeared as a guest on the catwalk for Maria Grachvogel in 2000, marking her debut as a model at London fashion week. She was also selected as a British ambassador for Dolce & Gabbana  in 2003.Victoria Beckham is now a renowned fashion designer, businesswoman formerly she was a singer. Beckham is also well known for her love of designer high heeled shoes. In November 2011, Beckham was awarded the "Designer of the Year" gong at the annual British Fashion Awards.
She not only understands fashion and trends but has been a trend-setter and fashion icon for years. This year she designed below knee lengthening hems with overstate paneling ultra chic glamorous dresses and very stylish collection of bags and sunglasses. She designed great cuts, lovely colored tight and fit soft jeans that gives an amazing adorable look. 
You may also view these related posts:
Men 2010-2013 winter clothing and fall boots by  Ralph Lauren
Chloe Winter Collection of Bags and Shoes for Women
Chloe Winter Fall Ready To Wear Dresses For Women
Products
Eyewear
Jeans or denim
Ready to wear dresses
Bags
Sunglasses
Dresses
Accessories
For online shopping of  Victoria's collection you may visit her website.Here you can view Victoria Beckham's ready to wear winter dresses and bags 2013.
Victoria Beckham's Ready To Wear Winter Collection And Bags