Latest designer formal party wear frocks, dresses, A-lines 2017
Every year we have to attend some religious occasions(Eid-ul-Fitar and Eid-ul-Azha), social gatherings, get to-gathers and parties in educational institutions, dinners and business parties at your business places, and some wedding ceremonies.Being a women look nice and attractive in special occasions, choose/select a dress that not only enhance your personality but also adds confidence. In today's world due to technological interventions fashion industry is growing rapidly all over the world and in Pakistan as well as a result lots of new young designers are entering in the field of dress designing with their unique and innovative ideas.Due to rapid expansion in fashion industry dress selection has become a problem.Before purchasing dress for any event, I hope so following tips will prove significant for you.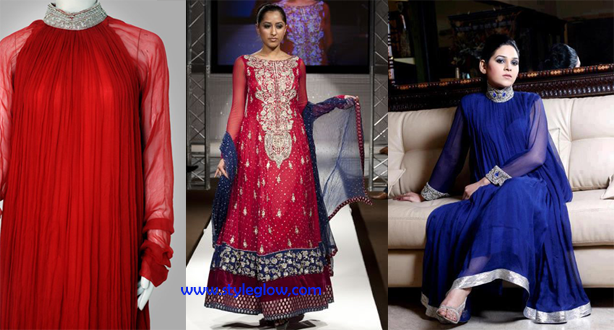 Tips you must know before purchasing dress for any event
Your body structure
You must be familiar with your body type/structre before buying any dress, if you are having a slim and tone body you can go for any type of dress and if you are overweight and  have flabby body structure then you have limited choice for choosing a dress.
Different types of fabric
Different types of fabrics are used for making formal or party dresse for example jamawar, organza, chiffon, satin, silk.One must select a dress according to the body type.Fabric used for dress making is important as well because chiffon dresses give slim look and jamawar gives you havey look.Therefore must consider the type of fabric when you are going to get a dress.
Color of your dress
Colors are very important ingridients of life, choose that colors that suits you and also keep in view different colors that are in trend these days like, different tones of blue, deep purple, green are in fashion this season.Black and white are very classic and you can wear these colors in any event.
Latest seasonal trends and styles
Different tv channels are casting many fashion shows that can keep you up to date with latest fashion and girls that are interesred in wearing unique dresses keep watchful eyes on fashion trends shown on different tv channels. In the year 2017 long and normal both lengths, contasting color combinations, emroidered necklines, back motive and embroidered daman, frocks with flares, anarkali frocks, floor length maxi dress are in trend that look gorgeous, young girls can wear kurtas with jeans.
Accessories and formal dresses
If your gown is having simple pattern then wear some jewelry to make your dress attractive and elegant.In cold weather you can carry scarf, a nice hat and gloves to enhance you dressing.
Shoes and formal dresses
Along with dress selection shoes are very much important to make you elegant so select shoes that compliment your dress.
Comfort
Whether you are going to purchase a long or short prom dress/formal party wear dress it must be comfortable, a cozy dress will make you confidence.You must consider the fact that if your dress is comfortable to wear and carry then it will increase your confidence.
Latest designer formal party wear frocks, dresses, A-lines 2017
Whenever you are facing a problem of dress selection consider the above mentioned tips that will prove beneficial for you here in this post I am lisiting  some reconised Pakistani designers, for purchasing their unique and quality dresses you may go to their online stores. All these designers are presenting dresses with new themes and creating exlusive collections for special events like wedding collections, eid collections, winter collections, pret collections, lawn collections.
Deepak Parwani
Nomi Ansari
Rani Eman
Sonia Batla
Sana Safinaz
Asim Jofa
Nelofer Shahid
Kosian Kazmi
Shehla
Nickie Nina
Umer Sayeed
Nadia Hussain
HSY
Maria B
Mehni
Zara Ahmad
Mahreen Khan
Teena Durani
Aysha Ahmad
Here you can view some amazing dresses of Pakistani designers 2013.
Related posts: